International Paralympic Committee (IPC) President Andrew Parsons has praised the 2018 World ParaVolley Sitting Volleyball World Championships for taking the sport 'to the next level'. World ParaVolley President Barry Couzner OAM met Parsons on the sidelines as the quarterfinals of the event were played in the Netherlands last week.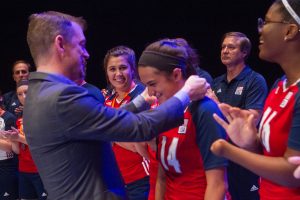 "I am very happy to attend the Sitting Volleyball World Championships and watch these outstanding players performing to the best of their abilities and taking the sport into the next level," said Parsons.
"This is a sport which has been steadily growing over the last years and we are happy to have it as part of the Paralympic programme. I still remember the packed tribunes at the Riocentro Pavilion 6 at Rio 2016, with thousands absolutely fascinated with this sport. Me among them!
"It is imperative that the IPC and World ParaVolley continue strengthening their mutual relationship in order for the sport to continue this development path."
Couzner added: "I am grateful that Mr. Parsons was able to visit the World Championships here in the Netherlands and see how important gender equality is for our organisation with 16 men's and 16 women's teams participating.
"He was able to see the best sitting volleyball in the world played by the best sitting volleyball athletes in the world and can witness how competitive and popular the sport continues to be.
"We had a very fruitful discussion about the ongoing strong relationship between our two organisations with classification and anti-doping compliance being two areas where we will continue to work very closely together.
"World ParaVolley's goal to have Beach ParaVolley (Standing) in the 2028 Paralympic Games was also a topic Mr Parsons was very interested in."
Article courtesy of the International Paralympic Committee
---
Quick Links