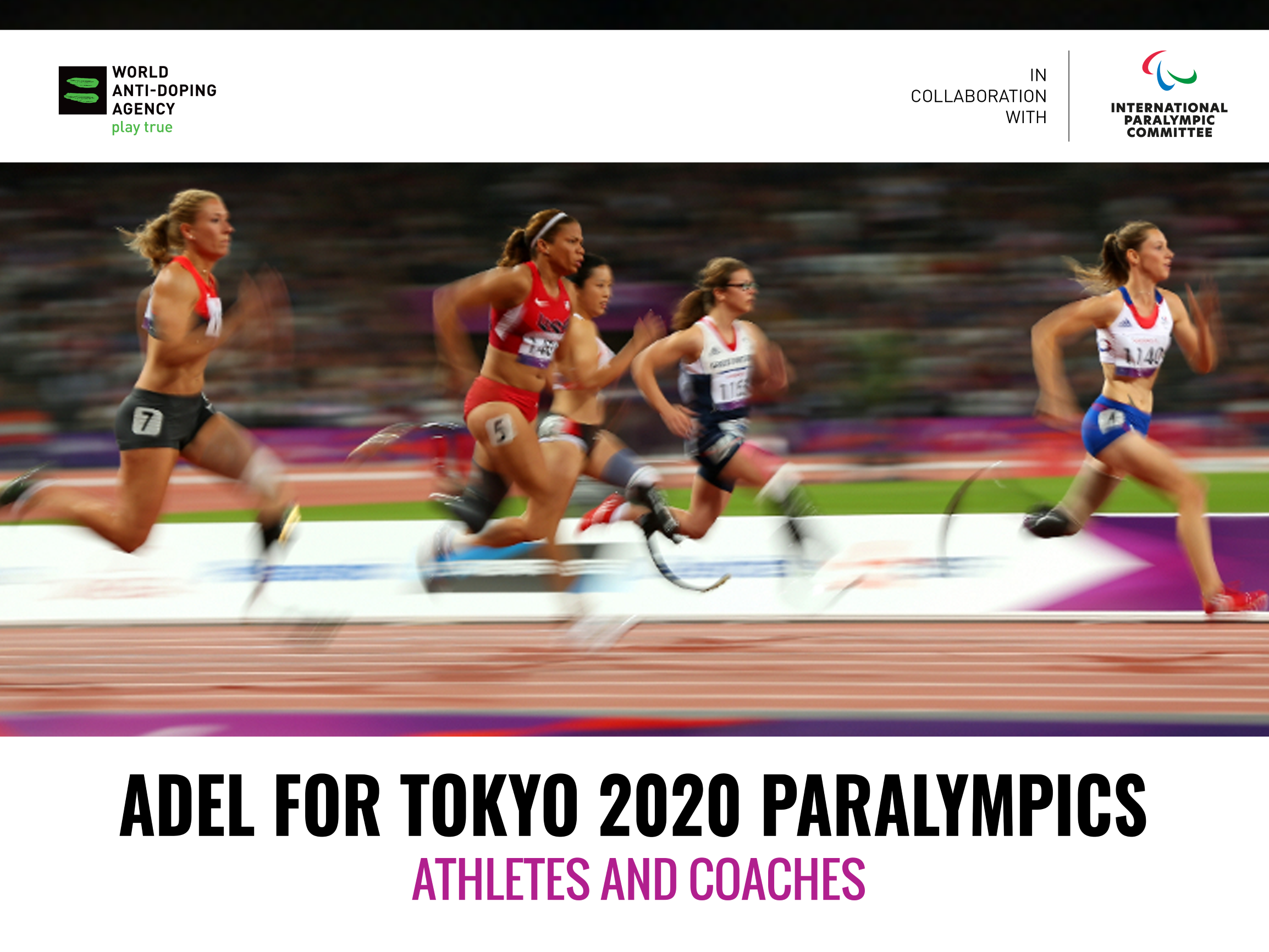 From IPC and WADA
With just under seven months to go until the start of the postponed Tokyo 2020 Paralympic Games, the World Anti-Doping Agency (WADA) is pleased to launch a new education course on its Anti-Doping Education and Learning platform (ADEL), specifically designed for athletes and coaches aiming to attend the Tokyo 2020 Paralympic Games.
The new course, entitled 'ADEL for Tokyo 2020 Paralympics', was developed by WADA in collaboration with the International Paralympic Committee (IPC). This collaboration was established as part of WADA's ongoing work to support the implementation of the International Standard for Education (ISE), which promotes the principle that athletes and their Athlete Support Personnel (ASP) should be educated prior to arriving at a Major Games or event. The course has been designed to ensure that athletes and coaches can be informed in advance about the anti-doping program in place at the Tokyo 2020 Paralympic Games; and, how it will cater to the specific needs of Paralympic athletes.
Those taking the new course will gain an understanding of the Tokyo 2020 Paralympic Games' anti-doping rules, procedures and requirements – including how to check medications and apply for a Therapeutic Use Exemption (TUE), how to provide Whereabouts information, and explanations of the athletes' rights and responsibilities during the testing process. The course will also allow athletes, coaches, guides and pilots (for visually impaired athletes) to identify key information, such as important dates that they need to be aware of and which organization has jurisdiction over them during the Games.
WADA Director of Education, Amanda Hudson, said: "WADA is pleased to have worked in collaboration with our partners at the IPC to develop this new addition to our education solutions that is specifically catered to Paralympic athletes and their coaches. The International Standard for Education that entered into force in January promotes the principle that those hoping to compete and participate at major events, including the Paralympic Games, should be educated prior to the event. 'ADEL for Tokyo 2020 Paralympics' will enable various Anti-Doping Organizations and National Paralympic Committees to prepare their national teams, specifically the Paralympic athletes and their vital support personnel, on the anti-doping program that will be in place at the Games."
James Sclater, Anti-Doping Director at the IPC, added: "It is important for the Para athlete community to better understand their rights and obligations. This new 'ADEL for Tokyo 2020 Paralympics' course will help ensure that athletes and coaches are armed with the right knowledge ahead of the Tokyo 2020 Paralympic Games."
"Athletes and coaches should be viewing anti-doping as an integral part of their Tokyo 2020 training regime. It's vitally important that athletes take the time to understand the rules – we don't want anyone's Games experience and years of training going to waste because of an unintentional anti-doping violation that could have been avoided. Likewise, for coaching and support personnel, if they use this course to get even the most basic understanding of the anti-doping rules, then they will be in a stronger position to support their athletes in Tokyo."
Chelsey Gotell, chairperson of the IPC Athletes' Council and member of WADA's Athlete Committee, said: "Being an elite athlete involves so much more than being great on the field of play, there's also an obligation to understand your role within the anti-doping system. Ultimately, it's every athlete's responsibility to be fully aware of the timelines, processes and their rights and obligations to abide by the rules.
"Since Rio 2016, there's been a lot of work between the Paralympic movement and WADA to create more awareness and synergies between the two organizations. The 'ADEL for Tokyo 2020 Paralympics' course is a great example of the progress being made in aligning the unique requirements of Para athletes when it comes to anti-doping. I'm fascinated to see what our athletes make of it."
Completion of this course – which includes a certificate for those who achieve a score of 80% or higher – is highly recommended. WADA and the IPC strongly encourage all National Paralympic Committees to work in close collaboration with their National or Regional Anti-Doping Organizations to ensure that athletes, coaches and other ASP are properly educated in advance of the Games – a principle that the new ISE reinforces.
The course, which is currently available in English, French and Spanish has also been adapted slightly to ensure that visually impaired athletes can make their way through the course with their screen readers.
In a similar collaborative effort, we once again highlight the 'ADEL for Tokyo 2020 Olympics' course, a collaboration between WADA, the IOC and the ITA. Both courses demonstrate all organizations' commitment to educate and support athletes, their coaches, and other ASP in the build-up to the 2020 Olympic and Paralympic Games.
Should you have questions regarding either course, please contact WADA's Education Department at ADEL@wada-ama.org.