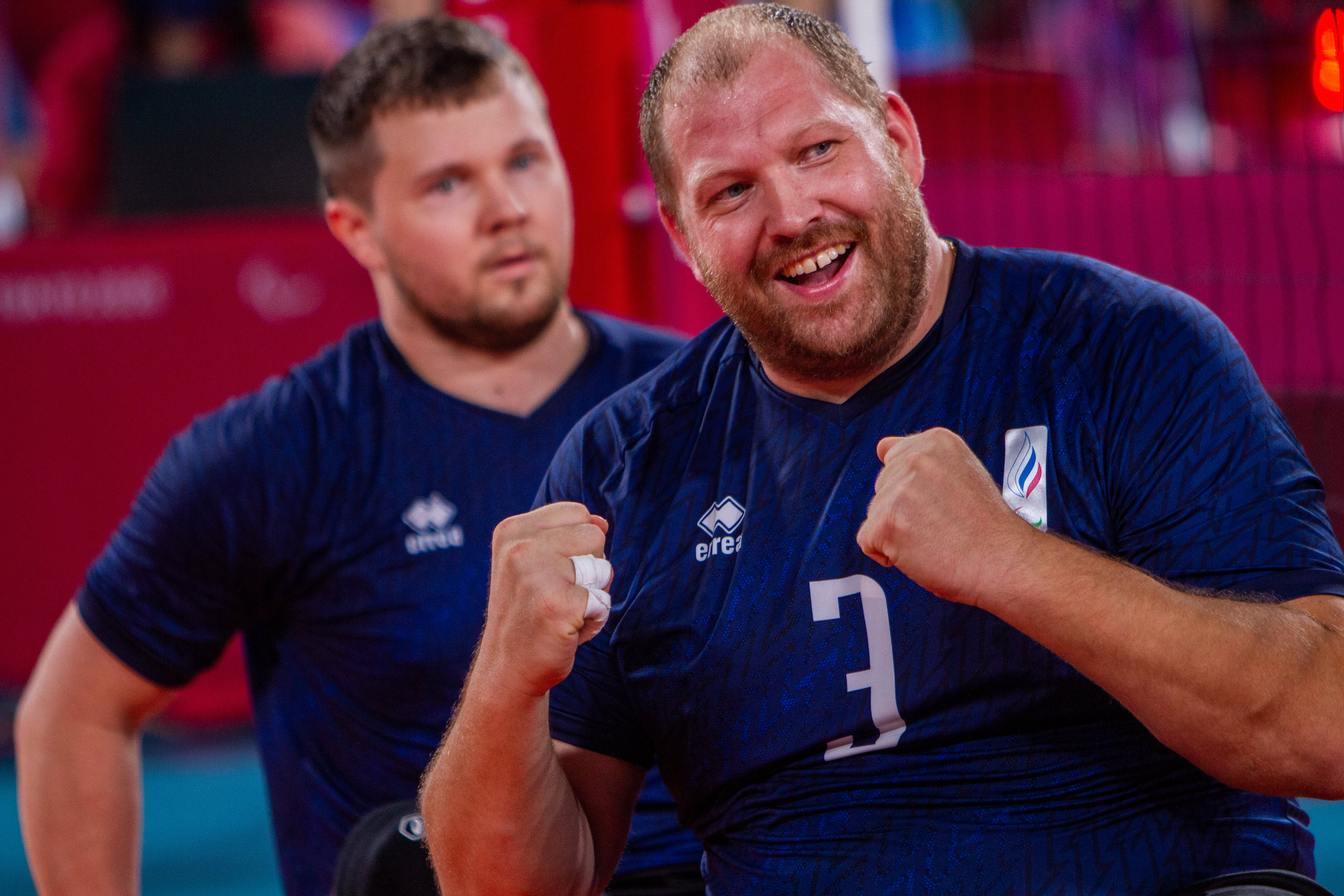 After RPC's 3-1 loss to Iran in the men's gold medal match at Makuhari Messe Hall, Viktor Milenin dedicated his Tokyo 2020 Paralympic Games silver medal to his wife Anna, daughter Vasilisa and sons Matvev and Timofey. He also expressed his hope to go one step further and finish with a gold medal.
"This medal is the pay for all the efforts that I've done and for all the time that I've been apart from my family," Milenin said.
"We won bronze once (at Beijing 2008), now we have a silver and I think that we have all the chances to go for the gold medal in the future."
Although Milenin tries to be more reserved and modest, it is known that he is married to 17-time Paralympic medallist in Nordic skiing Anna Milenina. His silver is one medal closer to the tally of his wife, but he admits that he is nowhere close to have the star power his wife has.
"Even if I get Paralympic medals every year I wouldn't have a chance to beat her, she's a superstar."
In an interview with VK-media, Milenin shared his light take on the athletic life with his better half Anna.
"I don't know how to ski. I always fall. It will take me 40 to 60 minutes to ski one-and-a-half kilometres. In the meantime she manages to ski five to 10 times around me on the same track. She doesn't try to teach me to ski and I don't try to teach her to play volleyball," jested Milenin.
But on the sitting volleyball court, Viktor Milenin is a big star who continues to endeavour for his team. Many teams have tried to snatch at least a set against seven-time gold medallists Iran, but RPC were the only team that braved the challenge in Tokyo. On top of that achievement is a 30-point haul in the final he built from 22 attacks, three blocks and five service winners.
"We train with Iran and are very good friends with the Iranian team. Today we won one set but this is just one game. We could've won two or more sets, it just depends on the process of the game. And every team can make mistakes." he said.
But he gave high praises for the Iranian programme and facing such high-level team also pushed him to perform at a high level.
"They have a really good defender (Morteza Mehrzad) and a strong team all over. They really played well," he commended.
"It's very important to build the same system that they use in Iran, where there's strong support for the sitting volleyball team athletes. This is something that we do not have in Russia.
"I was more nervous and anxious when we played the semifinal because we hadn't had many chances to play against Brazil before. But since we know the Iranian team I felt a little bit more relaxed."
Milenin has now won two Paralympic medals – bronze at Beijing 2008 and silver at Tokyo 2020. He also led his team as MVP to claim back-to-back European Championship titles in 2017 and 2019. He was named Best Blocker, Best Player and Best Spiker in various continental tournaments.
He was presented with the order of Merit to the Fatherland in recognition of the bronze medal he won at Beijing 2008 and received the title of Honoured Master of Sport in Russia.
He was born on November 20, 1987 in Krasnoturyinsk. He took up taekwondo at age 11, attained a black belt and won a medal at the Sverdlovsk regional taekwondo championship. Two months after that victory, he was hit by a drunk driver at age 16 while riding his motorcycle. His left leg was amputated as a result of his injuries.
He found out about sitting volleyball from a prosthetics centre in Yekaterinburg, shortly after his amputation. He got an invitation from Rodnik club captain Sergey Yakunin who regularly made visits to the centre in search of prospective players. He accepted the invitation and attended several training sessions and eventually took up the sport in 2003.
"With the help of the sitting volleyball team I believed in myself and started living like a regular person."