The United States' Chris Seilkop/Dave Newkirk/Eric Duda delivered a brilliant three-set finish to win the men's gold medal, while China's Li Min/Xu Danshu/Chen Yalin confirmed their dominance against the United States with a straight-set home win for the women's gold medal in the first-ever Beach ParaVolley World Series in Pingtan, China on Sunday.
"We weren't going for perfect, we were going for a win," Newkirk said. "Poland played fantastic but our team came together and we had a few key plays that started us rolling."
Seilkop/Newkirk/Duda served their way to snatch the opening set win at 21-19. Poland 1's Adam Stepien/Artur Wasowicz/Rafal Wojtowicz led at the start of the first set, but the USA players' patience on offence and defence helped the team bring the score to a deadlock at 14-all. From that point on, USA's good service game keyed in crucial points to win the set.
Wasowicz and Stepien played with better consistency on the attack and took turns in scoring to create a big lead for Poland 1. They succeeded to tie the match 1-1 with a 21-14 win in the second set. By the third set, USA pounded on every opportunity to get the ball down to secure the championship win at 15-8.
"When we were down in the first set, we came out slow and we didn't control the ball," Newkirk said. "We talked about making the court smaller for us and once we started to make the court smaller then we were able to control the ball and keep it within reach. We were able to move it around and have some good swings.
"We came out very flat in the second set and started with a little bit of life there but we were too far behind to really make it up. We jumped on them early and served aggressively."
In the bronze medal match, Poland 2's Bartolomiej Synoweic/Jacek Molinski/Michal Wypych defeated Slovakia's Rudolf Makovini/Martin Dubovsky/Juraj Kucej 2-0 (21-16, 21-15). Synowiec's hustle and strong offence complemented Molinski's excellent service game and defence that steered the team to win the encounter.
Indian trio Datar Deewarata/Abhishek Aluwala/Sahir Ali Mallick finished in fifth place after beating Australia's Nic Kaiser/Nick Coburn/Bradley Barclay in straight sets (21-14, 21-17).
"We are grateful for this experience," Deewarata said. "This is our first big tournament in Beach ParaVolley and we are very happy to be part of this historic event.
"We will train harder and we hope that this discipline will be part of the Paralympics. This win is very encouraging for us to participate in more Beach ParaVolley tournaments in the future."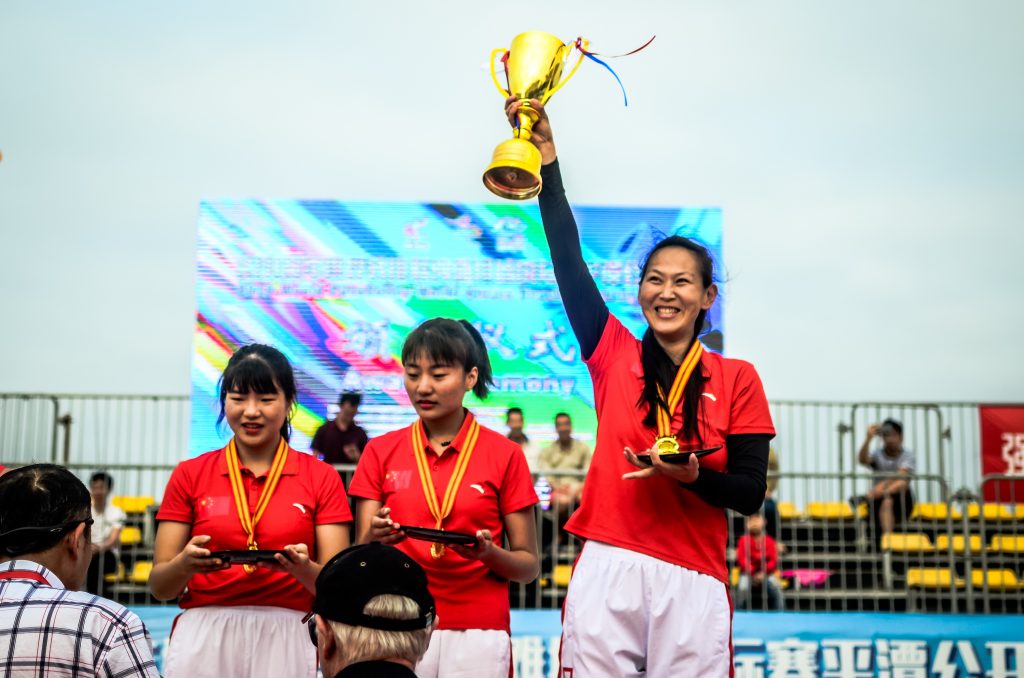 Meanwhile, China's Li/Xu/Chen completed their gold medal run with a sweep of the best-of-three series in the women's tournament with a 2-0 (21-19, 21-10) triumph over USA's Autum Reagan/Meredith Gross/Skye McDermott.
The home team got their toughest challenge in this third encounter with the young USA team, but with a few good breaks in the first set, they were able to seal the win. In the second set, China played great defence, while USA struggled to get the ball to the other side, allowing the former to easily win the match.
At the awarding ceremony, Poland 1's Wasowicz was named best men's athlete and best overall athlete, while China's Chen received the best women's athlete prize.
---
Quick Links