China has won Gold at the 2017 ParaVolley Asia Oceania Women's Sitting Volleyball Championships!
Another dominating performance saw China defeat Japan 3-0 (25-13, 25-17, 25-11) for the Gold today!
As has been the case with this team through the years, the Chinese women's team dominated all opposition in the entire tournament, incredibly not dropping a set during the entire competition – 5 matches won at scores of 3-0 per match.  The most points any team managed to score against China was 17 by Japan in the final match.
In the Bronze medal match, I.R. Iran defeated Kazakhstan by a score of 3-0 (25-10, 25-13, 25-13).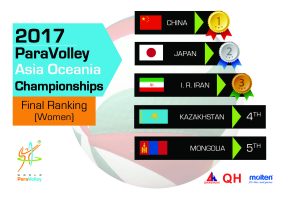 ---
China, Japan, and I.R. Iran qualify for the 2018 World ParaVolley Women's Sitting Volleyball Championships
Japan, as host of the Tokyo 2020 Paralympic Games, qualifies automatically for the 2018 Sitting Volleyball World Championships.  However, they did not play at this competition as automatic qualifiers, but they were truly true competitors for the Gold!  They secured their spot in the competition final by defeating I.R. Iran in the round robin 3-1.
China, by winning Gold, earned a spot in the 2018 Worlds, as did I.R. Iran by finishing in the Bronze medal position.
The 2018 World ParaVolley Sitting Volleyball World Championships will be held in the July 2018 in the Netherlands.
---
Matches continue on July 2nd at the 2017 ParaVolley Asia Oceania Men's Sitting Volleyball Championships, with the teams competing in the final round robin matches and also the medal matches.
See the schedule HERE