Rotterdam, Netherlands, July 21, 2018 – World No.7 Russia became world champions for the first time after recording a very impressive 3-1 (18-25, 27-25, 26-24, 26-24) win over 2016 Paralympic champions USA in the World ParaVolley Sitting Volleyball Women's World Championship final at Luxour Theatre on Saturday.
In a final, which will remain long in the memory for some stunning rallies, the European champions showed amazing character and determination to fight back from one set down and deny the world No. 1 Americans, who had beaten Russia in straight sets in pool play earlier in the tournament and were also hoping to pick up their first world title.
For Russia, the gold medal adds to the bronze medal they won in 2014 while for USA, it's the third edition in a row they have picked up the silver medal after losing the World Championship final to China in 2014 and 2010. Both teams had already qualified for the Tokyo 2020 Paralympics having reached the final.
WOMEN – Rotterdam – Finals

Sat Jul 21

11:00
Canada v Netherlands
pl 7-8: 3-1 (25-18, 25-18, 19-25, 27-25
Sat Jul 21
13:00
Brazil v Ukraine
(pl 5-6): 3-0 (25-16, 25-15, 25-21)
Sat Jul 21
15:00
China v Italy
Bronze Medal Match:
3-0 (25-10, 25-19, 25-12)
Sat Jul 21
18:00
Russia v USA
Gold Medal Match:
3-1 (18-25, 27-25, 26-24, 26-24)

Women's Final Ranking

1 – Russia
2 – USA
3 – China
4 – Italy
5 – Brazil
6 – Ukraine
7 – Canada
8 – Netherlands
9 – Iran
10 – Japan
11 – Rwanda
12 – Finland
13 – Slovenia
14 – Hungary
15 – Egypt
16 – Croatia

Dream Team

Best Server – Elizaveta Kunstman (RUS 9)
Best Receiver – Zhang Xufei (CHN 9)
Best Setter – Kaleo Okalani Kanahele (USA 14)
Best Spiker – Iuliia Mednikova (RUS 3)
Best Blocker – Kathryn Sue Holloway (USA 5)
Best Libero – Bethany Paige Zummo (USA 2)
Most Complete Player – Iuliia Mednikova (RUS 3)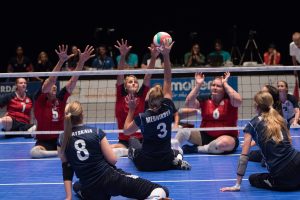 In one of the biggest rivalries between two countries that goes far beyond the Sitting Volleyball court, the match was synonymous with amazing rallies right from the start of the match.
The battle at the net especially between the tournament Most Complete Player Iuliia Mednikova of Russia and USA captain and tournament Best Blocker Katie Hollaway was a joy to watch, with both players fully committed on attack and defence.
Mednikova had able lieutenants in Olga Arbatskaia and Irina Panina while Heather Nicole Erickson and Nicole Nieves were great attacking options for the US.
Earlier in the day, defending two times world champions China beat Italy 3-0 (25-10, 25-19, 25-12) to win the bronze medal while Brazil finished fifth after beating the Ukraine 3-0 (25-16, 25-15, 25-21) and Canada finished seventh following a 3-1 (25-18, 25-18, 19-25, 27-25) win over hosts the Netherlands.
The podium of Russia, USA and China was a repeat of the first ever World Super 6 Women played in Hangzhou, China last year.
---
Men

In the men's tournament, it will be the world champions versus the Paralympic champions in the final after Rio 2016 gold medallists Iran showed why they are consistently ranked as one of the top teams in the world as they qualified with a convincing 3-0 (25-13, 25-19, 25-13) win over the Ukraine.
They will play Bosnia and Herzegovina in the final after the three-time world champions beat Brazil in the second semifinal 3-1 (21-25, 25-14, 25-22, 25-16).
Bosnia and Herzegovina beat Iran in the 2006 final before the result was reversed in 2010. Bosnia and Herzegovina beat Brazil for the title four years ago.
In reaching the final Iran and Bosnia and Herzegovina qualified for the Tokyo 2020 Paralympics.
MEN – The Hague – Semifinals & Classification

Sat Jul 21
11:00
Japan v Rwanda
pl 15-16: 3-0 (25-18, 25-23, 25-15)
Sat Jul 21
12:00
Egypt v China
cl 5-8: 3-1 (25-17, 25-27, 25-22, 25-17)
Sat Jul 21
13:00
Croatia v Iraq
pl 13-14: 3-2 (23-25, 25-19, 25-17, 22-25, 15-11)
Sat Jul 21
14:00
Russia v USA
cl 5-8: 3-0 (25-15, 25-16, 25-9)
Sat Jul 21
15:00
Netherlands v Poland
pl 11-12: 3-0 (28-26, 25-21, 26-14)
Sat Jul 21
16:00
Iran v Ukraine
Semifinal: 3-0 (25-13, 25-19, 25-13)
Sat Jul 21
18:00
Kazakhstan v Germany
pl 9-10: 3-0 (25-19, 25-18, 25-13)
Sat Jul 21
19:00
Bosnia & Herzegovina v Brazil
Semifinal: 3-1 (21-25, 25-14, 25-22, 25-16)

SUNDAY JULY 22nd
Match Reports (Facebook)
Daily Bulletin #10
MEN – The Hague – The Finals
Sun July 22
12:00
China v USA
pl 7-8
Sun July 22
15:00
Egypt v Russia
pl 5-6
Sun July 22
13:30
Ukraine v Brazil
Bronze Medal Match
Sun July 22
16:30
Iran v Bosnia & Herzegovina
Gold Medal Match

Men's Final Ranking

1 –
2 –
3 –
4 –
5 –
6 –
7 –
8 –
9 – Kazakhstan
10 – Germany
11 – Netherlands
12 – Poland
13 – Croatia
14 – Iraq
15 – Japan
16 – Rwanda
---
Quick Links