Reigning world and European champions RPC came in fifth place in their Paralympic Games women's sitting volleyball debut at Tokyo 2020, but they are now shifting their focus to the next edition of the quadrennial in Paris three years from now.
"We're going to start right now, working on being stronger for the Paris Paralympics (in 2024), because fifth place is not enough for us. It's very unusual to play for fifth place for us, we are number one in Europe and in our country, and we feel very uncomfortable with fifth place," wing spiker Svetlana Churakova said.
View this post on Instagram
RPC were relegated to the 5th-6th place classification match after their straight-set defeat to their 2018 World Championship final rivals the United States. RPC finished fifth with the after coming back from a set down to beat their European Championship arch-rivals Italy 3-1 (22-25, 25-23, 25-23, 25-14).
"It was really hard to come as losers here, because we didn't play for the medal today. It was very hard to feel the self-confidence inside so we could start to play harder and stronger," Churakova said.
"We lost the first set, and there was not a very big difference in points in other sets, because we just didn't feel ourselves or our self-confidence."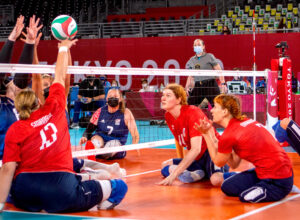 She expressed the team's disappointment over their Paralympic debut.
"It's our job, it's not our hobby, and that's why it's really a pity for us that we only got fifth place for Paralympic Games, because it's not just for fun for us. It's our job, our life."