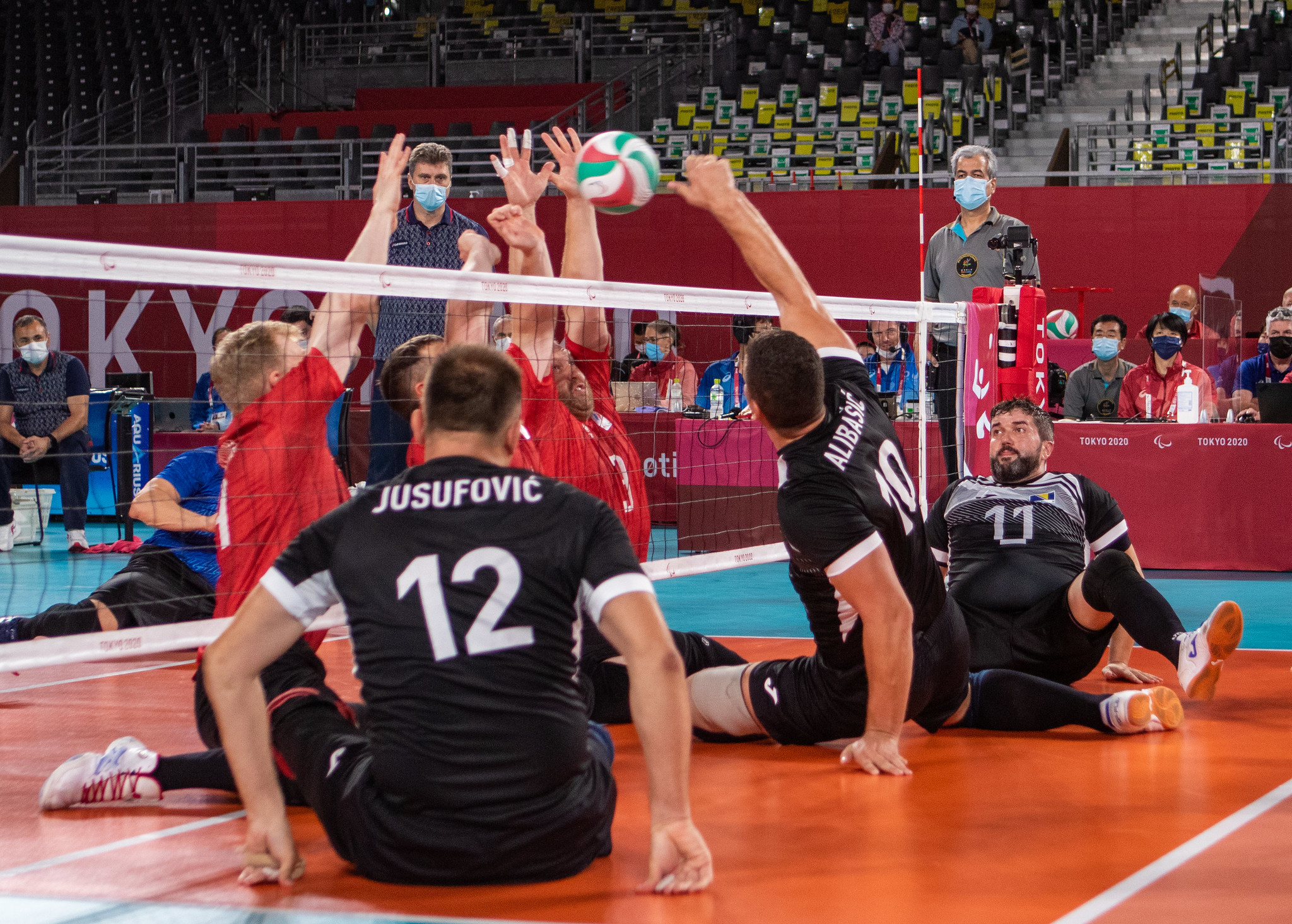 RPC and Iran kept their unbeaten run in the tournament with respective straight-set victories to secure spots in the semifinals, with Brazil and Bosnia and Herzegovina in the men's sitting volleyball tournament of the Tokyo 2020 Paralympic Games at Makuhari Messe Hall.
RPC proved worthy of the top spot in Pool A as they defeated two Rio 2016 podium finishers in a row. After a stunning defeat of silver medallists Bosnia and Herzegovina on Sunday, RPC looked more determined and outplayed Egypt in straight sets on Tuesday.
The reigning Paralympic champions completed the sweep of their matches in Pool B, following their 3-0 win over Asian rivals China. Then Germany and Bosnia and Herzegovina posted wins over Brazil and Japan, respectively.
On Thursday, September 2, the first men's semifinal between RPC and Brazil is scheduled at 18.30 local time, followed by the matchup between Rio 2016 finalists Iran and Bosnia and Herzegovina at 20.30. But before the final four, an all-Asian clash in the 7th-8th classification match between Japan and China will start the day at 13.30, then the 5th-6th classification match will follow between Egypt and Germany at 15.30.
Match No. 9 – EGY v RPC – 0-3 (21-25, 17-25, 20-25)
Rio 2016 bronze medallists Egypt and 2019 European champions RPC opened the day with their exciting matchup. RPC were already assured a place in the semifinals after recording two wins, while Egypt have one win and one loss in Pool A.
RPC imposed their strength from the start, while Egypt tried to trail and overtake their European rivals on the score. Aleksandr Savichev was omnipresent in the serve and attack. Things got heated up at the end of the set, but RPC prevailed with a 25-21 win.
The second set followed a similar pattern as the first set, where RPC always stayed ahead while Egypt struggled to catch up. The African powerhouse did get ahead in the second technical timeout by a one-point lead (16-15) but did not sustain it, as RPC powered their way through a well-orchestrated offence to take the second set 25-17.
As Egypt looked more subdued in the third set, RPC became a bit complacent and decreased the level of their game. As a result, Egypt managed to make a comeback and take over with a two-point lead into the first technical timeout. The Egypt momentum was short-lived, and RPC cruised to a 3-0 victory with a 25-20 set triumph.
"Our service game went very well, and the players had great concentration in difficult moments of the match. I think those things were key to the win. We ready to face any team in the semifinal, but now we have to rest and get back to training," Russia libero Alexis Volkov said.
"The service went well. The guys concentrated during difficult moments, so it went well. We are ready to confront any competitor. We have a rest for a little bit and train.
"We started very good in this match with good tactics. We played well and had some strong points against RPC, but there were individual errors that gave away points to our opponents. We must think of the next match and aim on taking fifth place. In the future, we have to get more training and make some change in the team by bringing in new players and tweaking our system of play." Egypt coach Mosaad Elaiuty said.
Match No. 10 – BRA v GER (23-25, 25-22, 19-25, 18-25)
Brazil and Germany were both fighting for a place in the semifinals, with the former having the edge with one win off their 3-1 win against China, while Germany have yet to earn their first win in the tournament.
The energy was high on both sides and teams took turns with the lead until Germany gained edge towards the end of the set to win it by a close 25-23 margin.
The Germans, however, suffered a bad start in the second set giving their rivals a five-point advantage. They let Brazil imposed its way of playing and trailed Brazil further by nine points at one stage. They managed to reduce the lead to a handful of points towards the end of the set courtesy of Francis Tonleu's excellent hits and blocks, but it was little too late as Brazil took the third set 25-22.
Germany regained their composure and took the lead right away in the third set. They built a good momentum to mount a big margin and their consistent game restrained Brazil from any surge all the way to end of the set to win 25-19.
Germany applied a lot of pressure to Brazil in the fourth set and their game took off as Dominik Albrecht's performances on service and attack were on point. Brazil could not find their rhythm and their defensive reaction to German's offence was more sporadic than usual. Germany led 16-14 off two back-to-back strong serves by Albrecht and soon they were on their way to victory with a bigger margin at 25-18.
Albrecht finished the match with a 35-point haul, which were built from 28 spikes and seven aces.
"Strong mind. This is what I must do. I must have focus and trust in myself on the serve. I need to check the blockers and find a good spot to place those shots in the air, and then find the right speed and power," said Albrecht on the key to his great service game.
"We tried all the time to win, but they were better. Dominik (Albrecht) scored a lot of points, and we couldn't block him. That's the problem our block game didn't work." Brazil's Fabricio da Silva Pinto said.
Match No. 11 – CHN v IRI – 0-3 (21-25, 22-25, 14-25)
China went into the match with the aim of not only winning but also to score as many points as possible to make it to the semifinals, while Asian rivals Iran are already guaranteed a spot as they have already earned two wins.
China had a good start as they matched Iran's point for point up to the second technical timeout. Iran decided to put pressure on the other team and shifted to a higher gear by serving tough, but Xu Zengbing unleashed some strong spikes that slowed down Iran's progress. However, the Chinese surge did not last long as the Iranians regrouped and scored the remaining points to close the set at 25-21.
Iran held China to score a minimum in the second set and were three to four points ahead. China started to serve stronger and pass better to put the score to a deadlock, but Iran combined clever plays with their powerful hitting to surge ahead. Several lifts were called on both sides that slowed the pace of the game and forced another tied score at 22-all. Iran served tough and took the second set 25-22.
In the third set, Iran never really let themselves get overpowered by China and cruised on as they mounted a significant lead. The Olympic champions seemed unthreatened in the succeeding plays as China seemed to have resigned themselves with the setbacks. Iran won the third set 25-14 to complete a sweep.
"There are tough competitors in the Paralympics. Since Japan had previous losses in this tournament, there are seven other teams that are very tactical. And being tactical can change the outcome of each match, just like when Brazil beat China and China beat Germany and then Germany beat Brazil. For the Iranian team, we use our speed," Iran coach Hadi Rezaei said.
Match No. 12 – BIH v JPN – 3-0 (25-13, 25-15, 25-13)
Bosnia and Herzegovina played against hosts Japan in the final match of the men's preliminary round. The Bosnians had a clear advantage against their Japanese counterparts, as their other match results guaranteed them of the semifinal spot.
Japan gave the 2016 silver medallists a good fight with their systematic way of playing to provide some good rallies, but the European side were too strong to overcome. The Bosnians closed the set in less than 20 minutes with a score of 25-13.
Bosnia and Herzegovina utilised the opportunity to field in their substitutes, but Japan also found a way to intensify the challenge as they managed to lessen the losing margin at 25-15 in the second set.
As the European team played with the same pace and strength against their Asian opponents, they wrapped up the third set and match with a score of 25-13 in just above the 20-minute mark.
"This was such a great experience to play against a team like Bosnia, since they have a lot of experience and a long history of success. This is a good moment for us to be playing a team like them," Japan player Masahiko Kato said.