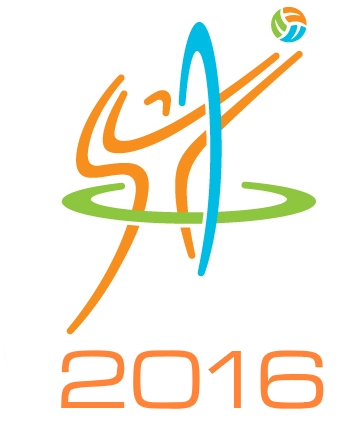 From the President's Desk
As 2016 draws to a close, it is a good time to provide our members and volunteers with a summary of what has been a very active year.
Board Meetings
We have conducted 5 meetings during the year, including a face-to-face meeting in China at which we devised the basics of the next World ParaVolley Strategic Plan under the guidance of Vice-President Wayne Hellquist.
Much of our planning and issue-resolution occurs at these Board meetings that are conducted using Skype in order to save on costs.
Medical Director
Louise Ashcroft, an experienced Physiotherapist and International Classifier, was appointed to the position of Medical Director – a non-voting position on the Board.  This has relieved some of the load on the Sport Department and enabled us to focus on two important issues: the Classification review and Anti-Doping activities.
 2018 Sitting Volleyball World Championships
The Board approved in principle that the Netherlands would organise this event and early next year an Inspection Visit will be conducted.  The concept is an exciting one, with the teams having matches in various cities in the Netherlands like a travelling road show and non-sports venues such as train stations and shopping centres potentially being used.
Donate
To date World ParaVolley has never provided the opportunity for direct donation to our movement.  Now there is a "Donate to World ParaVolley" button on our website and we are working through the complex process to handle money received and to enable donations to be tax deductable in the USA, and other places in the future.  Thanks to Marketing Director Jim Leask and General Manager Phil Allen for their contribution to this process that is ongoing.
Homologations
We have been very active in the area of equipment approval and now have support from 3 equipment Companies, namely QH (China), Senoh (Japan) and Gerflor (France).
In addition, we recently came to an agreement with Molten Japan to be our volleyball supplier for the next 4 years leading up to and including the Tokyo 2020 Paralympic Games.  Their offer of support to World ParaVolley has been very generous and includes an annual donation and the provision of complimentary volleyballs for our events.  This support commences 1st January 2017.
5 Star System & Program of Events
We have devised a 5 star system to designate the level of event and the accompanying requirements to stage those events.  This should assist potential Local Organising Committees to understand the requirements of our various competitions.  In association with this, the Sport Department has updated the cyclic program of events leading to 2026 – this is available from Denis le Breuilly.
2017 World Club Cup (men)
I R Iran will host the men's World Club Cup in May next year in the city of Tabriz.  We are hoping for at least 8 male Club teams to participate in what should be a great event.
World Super 6
An entire new event has been created that involves a promotion and entertainment focus, featuring top ranked women's teams and prize-money.  The total team prize-money on offer is USD$20,000. The first women's WS6 will be conducted in May 2017 at the World ParaVolley Development Centre, Hangzhou, China (also the China Goalball Training Centre) and the teams will be decided by invitation.  Thanks to Weiping Tu for his great efforts to realise this event.
2016 Rio Paralympic Games
This may have been our most successful competition to date, featuring a number of 5-set matches in the preliminary rounds and matches of extremely high quality in front of vocal crowds of up to 8,000 people.  As Technical Delegate, Denis Le Breuilly spent many hours in the preparation, planning and delivery of the event with support from our other experienced Technical Officials.
Finances
Our financial situation continues to improve as we create surpluses, despite the fact that our activities have alternative lean years.  We now follow and understand our financial situation better than ever before thanks to Phil Allen's great financial work.
General Manager
Following a Performance Review and due to his excellent administrative work, the Board has agreed to re-new Phil Allen's contract as General Manager and this was done in Rio.  His services are greatly appreciated by the Board and Members.
World ParaVolley Uniform
During 2016 we updated the uniforms for both International Referees (grey top) and International Technical Officials (blue top) that have greatly improved our professional image.  The tops look very smart.
External Relations
We have been working on the development of potentially useful relationships with various external organisations such as the IPC, FIVB, IWASF and the World Masters Games.  Such developments will hopefully bear fruit in the future in various ways for our athletes.
Dan Apol
We were all saddened to learn that Dan Apol (USA), one of our best Referees, passed away recently.  Dan recently officiated at both the Rio Olympic Games and the Paralympic Games – a feat no one else was able to match.  We at World ParaVolley will be donating to his family's Memorial Fund as a tribute to him and to assist his family.
Japan Referee Course
Denis Le Breuilly and Joe Campbell delivered a very successful Referee Course in Tokyo in December with 6 new Candidates from 4 different countries passing the Course.  Thanks to the Japan Para-Volleyball Association and the President, Mano Yoshihisa for their support.
Russia
The issue of Russian participation in the Rio Paralympic Games was resolved by the IPC when they suspended the membership of the Russian National Paralympic Committee.  However, our member is the Russian Federation of Sports for Persons with a Physical Impairment (RFSPPI) and the Board has decided to allow their participation in all 2017 events and competitions under certain conditions.  This is good news for their Sitting Volleyball athletes who have been faithful participants in World ParaVolley events for many years.
Areas requiring attention in the future
Membership – for a variety of reasons, we need to retain current Members and encourage new Members to join us
Donations – the technical aspects of the donation system need to be resolved before a marketing campaign is undertaken to raise funds
Events – we need to resolve the hosts for several events in 2017 and beyond
Beach Volleyball – we have still not been able to stage a World Championship and although several countries have show interest, we need a committed host
Communications – we still have improvements to make in terms of communication frequency and methods for both internal and external stakeholders – a partial solution is imminent
Classification Review – this is underway
Anti-Doping – the Board has committed funds in 2017 for this purpose, with a focus on out-of-competition testing and education
Summary
The Board continues to progress our sport in a variety of ways and we look forward to a busy 2017 that will include all of the Zonal Championships, special World ParaVolley events and a focus on Classification and Anti-Doping activities.
Barry Couzner OAM
President
World ParaVolley