World ParaVolley had a heart-to-heart talk with Germany couple Alexander and Michelle Schiffler
Sarajevo, Bosnia and Herzegovina, 10 November 2022 – Germany sitting volleyball's power couple Alexander and Michelle Schiffler – from players representing different countries to the duos who fell for each other when they met on the court – proof that love and sitting volleyball do mix.
World ParaVolley talked to the pair at the 2022 Sitting Volleyball World Championships, the same event where they first met.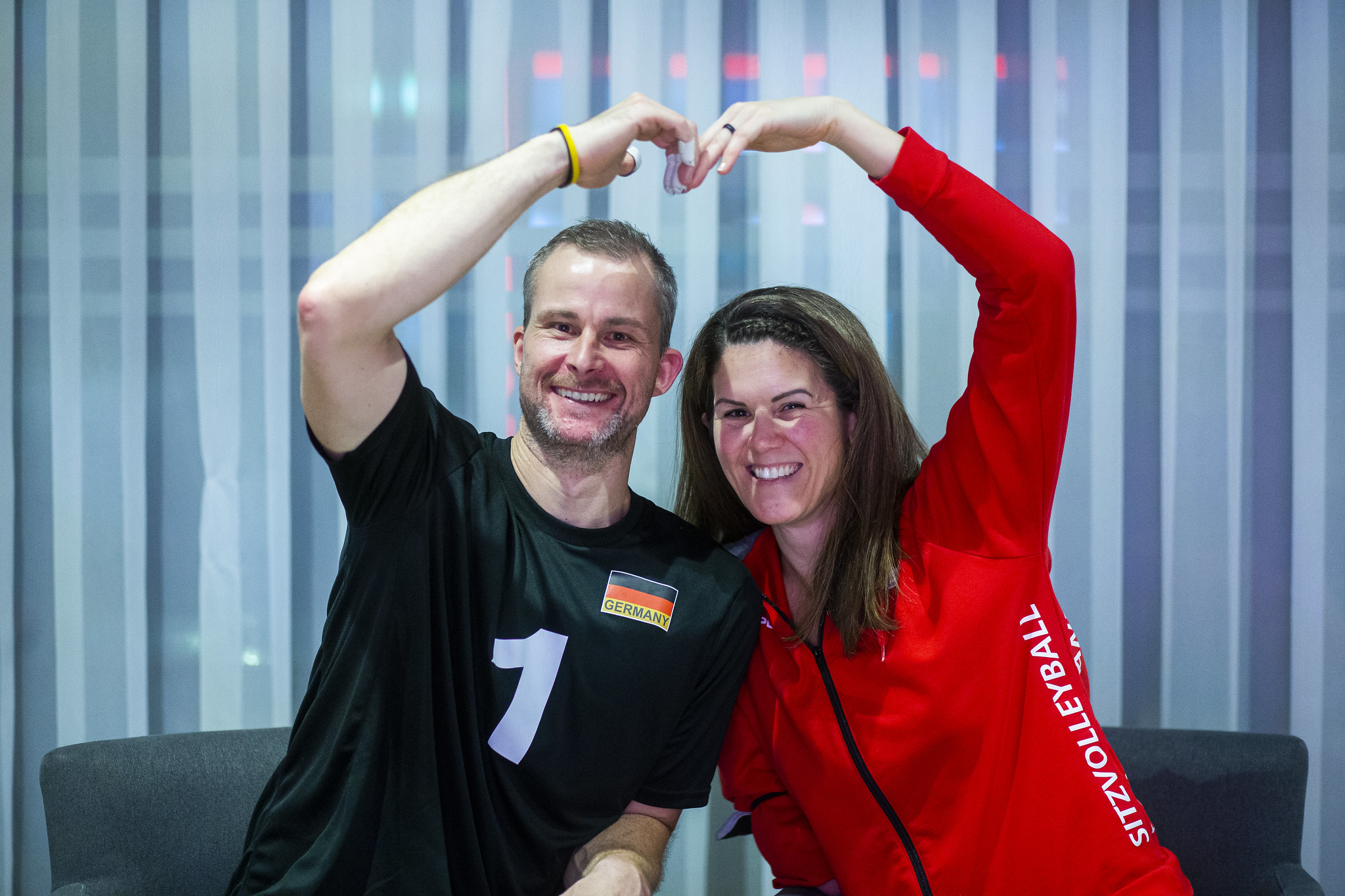 "I met Michelle in 2010 in the World Championships in Oklahoma. That's when we first saw each other and that's where it happened." Alexander said.
"He made the first move, and then I had to look over and see who he was, and then I had to look at his credentials just to know his name, where he was from. It's like a real fairy tale story. We were so infatuated and in love at the first moment. All I could think about was him. I immediately searched for him on Facebook," said a blushing Michelle on recalling their first encounter with each other.
Michelle back then represented the United States, and the demands of training became more difficult, so she made the decision after the Rio Paralympics that it was time for her to retire and lead family life, and eventually representing Germany with a good support crew around her.
"It's kind of interesting because after the birth of our first child, I sort of realised that I couldn't do this overseas, back and forth with training. My first child was born in 2015 so I decided that Rio would be my last hurrah with the USA team. It was a great highlight winning gold," Michelle explained.
"I had no plans of playing any more. I just wanted to stick with the German club team because Alex and I had just developed a new club in our hometown DSC-Dresden Sport Club. We wanted to keep pushing forth and recruiting players for that. It was around fall of 2018, while on vacation in Tenerife, watching the World Championships and thinking 'Wow! We could have been there! But how?'.
"That seed started growing and flourishing into this idea that maybe I could play. I started training with the German team. There was a change in the coaching staff and Christoph (Herzog) took over and I thought that this looks very attractive. We have a young fellow sitting volleyball player-turned-coach. I thought this might be interesting.
"Around Christmas time of 2018, the girls were really pushing me to try applying for citizenship. I thought 'Okay, let's do this!' because I've already taken all the German classes, I'm married to a German, and we have kids. I've been living there for so long. Sure enough, in four months, I was a German. It was awesome, and that was right before the European Championship in 2019. It happened really fast.
"It's also interesting going from a top dog team to an underdog team. For me, I have a new role to push them, to give them the confidence that they need, to know that they can handle or to be at the same stage with these girls that have been playing for years.
"I realised I'm not ready to retire and to finish. I want to keep playing. I also want to help develop the German women's team and help recruit and find young players. During the last training camp, we ran into a lady who's just like me. She's coming from track and field. She's also a Paralympics gold medallist in long jump and high jump. And I asked her if maybe she could try sitting volleyball. She thinks she's retired. So, no one is ever too old to stop playing sitting volleyball. I think you just get better with more experience."
Now that she has settled and adjusted with the German way of life, everything else fell into place. And she is grateful for the support of her husband for keeping that balance for both of them in parenting and playing sitting volleyball.
"He's actually very supportive. He takes on a 50-50 role in parenting our children. He supports me getting back into the field. I went to the European Championships just two months after giving birth. So, I had our second child with me," Michelle shared.
"Of course, this time (at the World Championships), the schedule is very rare and we have to use our time wisely. I wish I could combine more of the sport with free time for the family. Sometimes, it's not easy, we are able to manage," Alex said.
"I think it's a very unique situation. I'm very happy that Michelle can also play for the German women's team after acquiring dual citizenship. It's a very nice sport and I hope we both can get good results in these World Championships."
"Maybe next time we could bring our little one to the European Championship, as we hope to make it there, and maybe bring a babysitter.
"We have both achieved a lot of medals and titles. Of course, some more would be nice. That would be fun, but this time, the priorities are different. Family is happiness."
So, what exactly is a typical day in the Schiffler household and what is the arrangement when they are competing?
"A typical day at home is mainly like any normal family. Annaliese, our youngest one is one year and three months. She will still need a lot of support. Marlena, the big one, is pretty tall and she's going to school now. So, the main focus is clearly on our two daughters," Alex shared.
"We try to make sure that we chat with our kids. Well, not before a game because I don't want to have too many emotions going into a game. But we find the right opportunity also for the parents of Alex. We don't want to take the attention off of his parents while they're having a good time, with the kids being taken care of by their grandparents. We coordinate well," Michelle added.
Michelle believes that it is more than just their immediate family making everything work for the couple but also the family-oriented team that understands their situation.
"Our staff is also incredible. Christoph and Christian (Börcs) are also fathers and they understand, and I could just pass off my baby to Christian, the physical therapist. He doubles as a second papa. Our scout, who is also a kindergarten teacher, is also involved. It's actually wonderful to be in such a family-friendly team.
"The family is the entire German Federation. Both coaches work really hard to ensure that we each have our equal time. If there are several opportunities that Alex and I can share, where he takes the baby so I can practice, or I take the baby so he can practice.
"It's been really special to be here. For sure, we are missing our kids, but our girls in the team are so supportive. We haven't gotten sick of each other (laughs). I don't think that we will because we care about each other. If somebody feels down, we try to pick them up, maybe give them time for themselves. Even the coaches are understanding. If we need time with our significant other or just a breather, they respect that. It's really nice to have such a small but tight team together because it feels like family.
"I think it's wonderful with coaches who support women, especially mothers going back to the sport to continue their career, that they will be supported. They can be given what they need, maybe a baby bed, for an extra hand to hold their kid or to lull the baby to sleep. I think it's really important because it's our biology as women. We have to be accepted for who we are, so we could also perform at an equal level."
And when it comes to her teammates, Michelle just feels at home to share a common bond with them.
"We can just sit on the couch. We bond over coffee. We bring our own coffee machine everywhere we go, we have a team machine, and everyone just brings capsules. We bond over early morning coffee, afternoon coffee. Just about anytime coffee. I really love that part of this team."