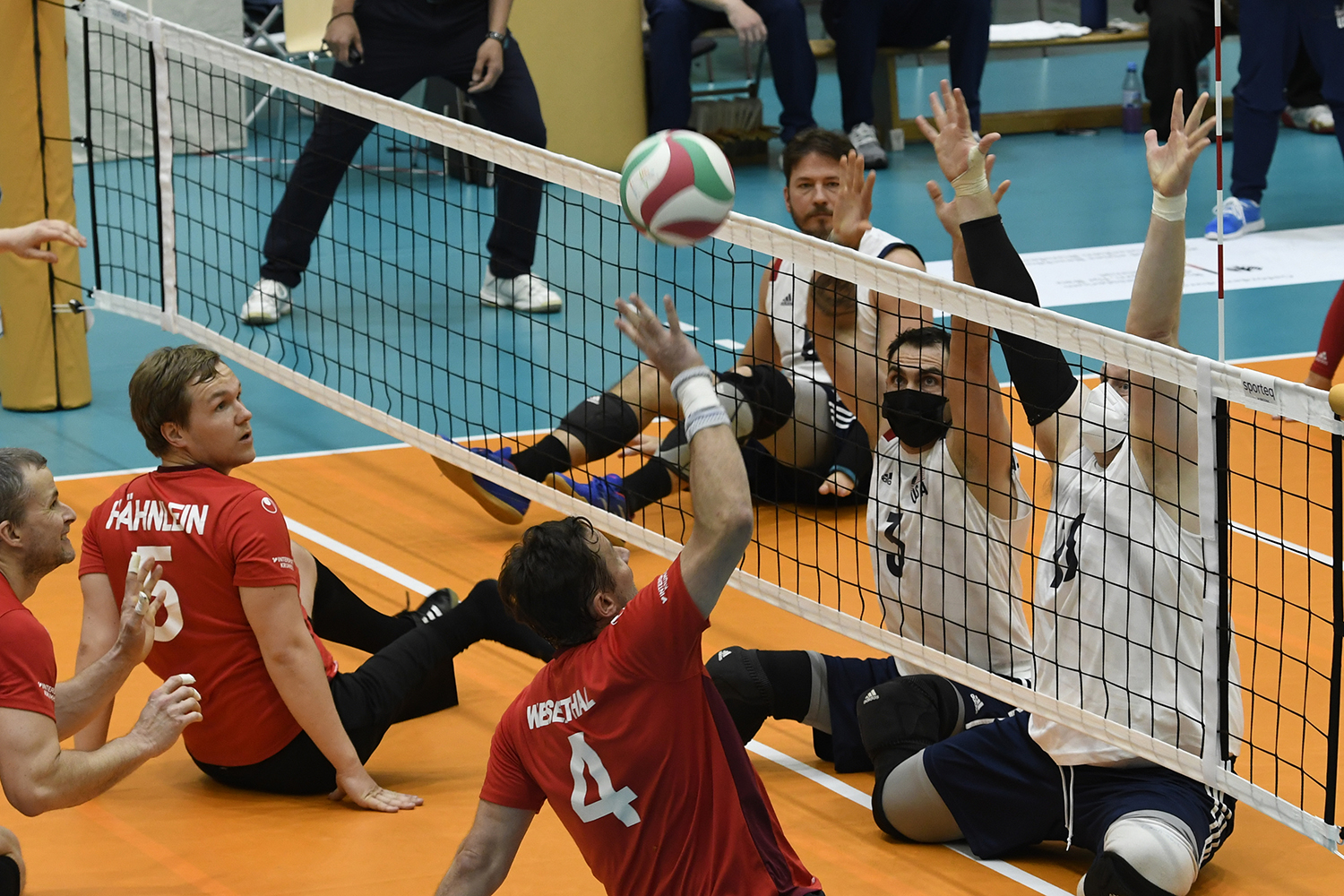 Only one spot is left to complete the semifinal line-up for the Tokyo 2020 Paralympic Games Qualification Tournament. Kazakhstan, Ukraine and Germany secured their spot on Thursday. The fourth and final semifinal place will be contested on Friday between Croatia and Canada.
Kazakhstan vs. United States 3-1 (19-25, 25-19, 25-14, 25-22)
After having made the switch from Pool B to A, United States faced off with Kazakhstan who had won both of their matches so far in the tournament. As captain Eric Duda mentioned after the matches on Wednesday, Team USA are improving and feeling better. It showed on court in the first set against Kazakhstan.
With Zachery Upp putting pressure on the Kazakh reception on serve the USA took a seven-point-lead early on (14-7). Kazakhstan closed the gap when Perdebay Namuratov increased the heat from the service line, but they never were in front. On first set point Roderik Green was very attentive after a service block and tipped the ball over for the win.
It looked good for USA at the beginning of the second set after having taken a four-point-lead. But halfway through the set the Kazakhstan scoring machine started picking up more and more points. A run of points from 12-13 to 19-13 made all the difference for Kazakhstan, Bauyrzhan Sartayev's serve was spot on. USA made a little more mistakes and the set went the way of Kazakhstan: 25-19.
Kazakhstan were well on their way to a 3-1 win after having won the third set 25-14 and taking a 17-12 lead in the fourth. But America still had some tricks up their sleeves, a James Stuck ace leveled things up at 19-19. Green's block put them in the lead, and Upp's attack increased the difference to two at 19-21. Kazakhstan's Sartayev made an essential block at 20-21 and a few points later there was match point. Kazakhstan won 25-22.
Bauyrzhan Sartayev reacted: "The team was really exhausted after yesterday's match against Germany, they hadn't fully recovered for this match. Team USA is one of the top-ranked teams, we have high regards to that team, they are real professionals. Almost all of their players are taller than our guys. We won because of our teamwork and speed."
"This is the USA team that we're used to seeing much more. The progress through the tournament has been good. We have got to be able to plot a win against the hosts tonight", coach Gregory walker said early afternoon.
Ukraine vs. Canada 3-0 (25-15, 25-19, 25-20)
After two losses on Tuesday and a day off Canada returned to the venue to take on favourites for the Tokyo ticket Ukraine. Ukraine was strong right off the bat, with strong serves and on point blocking. In no-time they led 25-15 and 13-3, after Denys Bytchenko had a nine-point-run on serve, including him hitting four aces. But the fight in Canada was far from over, the fought back one point at the time and managed to close the gap to three points at 21-18. A Roman Pryshchepa block crushed the dreams of a full return for Canada, Ukraine won 25-19.
In the third Canada kept Ukraine close, up until 19-19 there was hardly any light between the two teams. Ukraine forced the gap by a few power hits and were on their second match point at 20-24 when Bytchenko scored off the block to seize the victory. Canada will play Croatia on Friday to see if they can make it to the semifinals.
Denys Bytchenko: "It's our plan to beat all the teams, because in this tournament there is only one prize: going to Tokyo. Canada play really fast, after the second touch either hit the ball or drop it in. It's very difficult to understand their game. It's hard to adapt to."
"We came here to compete, despite the outcome I think we showed a lot of good things. Ukraine are ranked 5th in the world and there's a reason why. We started to play a little bit more towards the end, so positive on that. We still have the match against Croatia tomorrow, so our plan is coming to play, we'll leave it to the very last match," coach Jeff Smith told.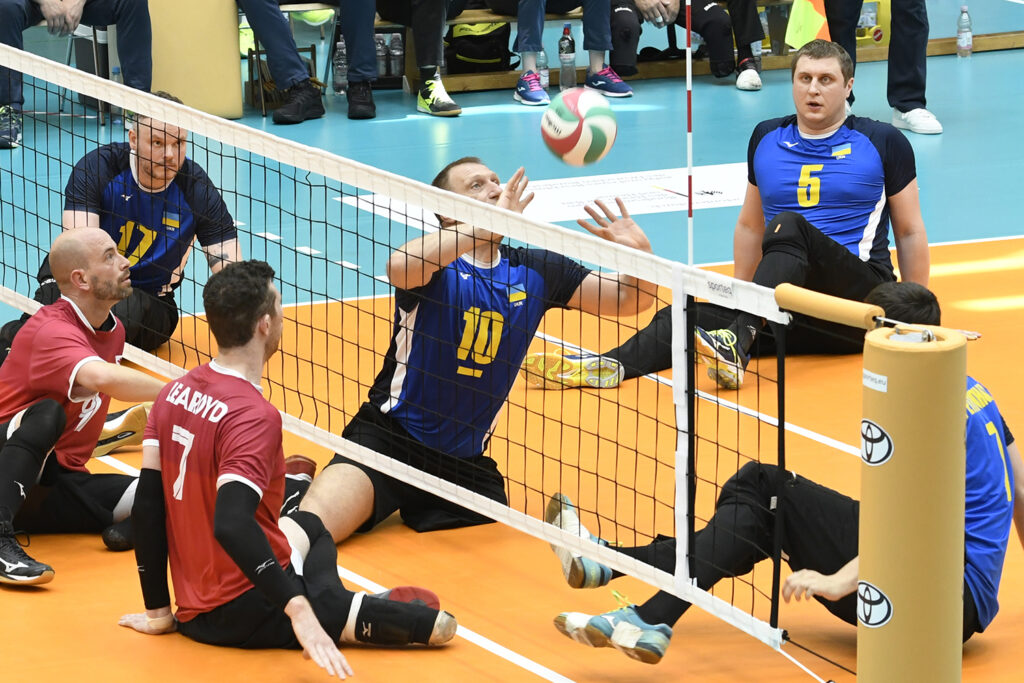 United Stated vs. Germany 0-3 (14-25, 19-25, 18-25)
Germany had no intention to let Team USA have a chance on Thursday night. They were strong early on with Dominik Albrecht scoring three of the first four points, giving Germany the 4-0 at the first time-out for USA. They kept on dominating throughout the first set and won 25-14 after Nicholas Dadgostar hit long.
The second set was tighter, the first difference was made by Zachery Upp from the service line. He put the pressure on the German passing line and his team took a 13-10 lead. But errors crept into the USA game. They weren't able to stay close to the Germans anymore and set point was converted at 24-19.
Germany weren't about to let USA get back into the match and quickly build a three-point advantage, which they kept throughout the set. From 21-18 on Germany were relentless and USA didn't get a point on the board anymore. A real blocking battle was won by Alexander Schiffler on match point.
Heiko Wiesenthal said his team had something to prove. "Yesterday was a bad day for us, we didn't play well against Kazakhstan. It was an emotionally difficult match for us. Today we had the good emotions right from the start and then we can make a good game. We have won the last two matches against Ukraine, I hope we will play a good game tomorrow."
For further info on the schedule, click here.