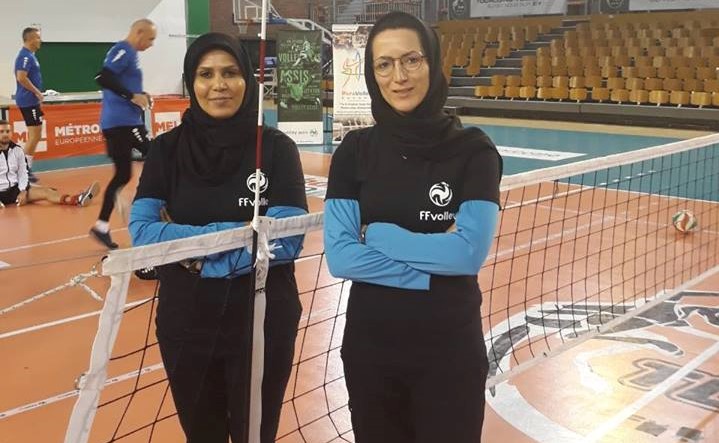 Halleh Jafari and Fariba Ahadi hope to become flagbearers for their country after making history last week when they became the first Iranian women to referee an international Sitting Volleyball match.
Jafari, 34, and Ahadi, 39 both refereed matches at the ParaVolley Europe New Nations Subzone Men's Tournament 2018 in Tourcoing, France last weekend as part of the World ParaVolley Level 3 Referee Course**, which was held at the same time.
Jafari was the 1st referee of the first match between the Czech Republic and Slovenia on Saturday while Ahadi refereed the last game of the opening day between France and Georgia before both featuring as second referees and scorers on the final day.
"I am honoured to be one of first Sitting Volleyball refereeing delegates from Iran and I hope other woman in my country follow my lead," Jafari said after the tournament. "It was a great experience for me. I'm very proud to be involved in the course and being able to learn from so many other passionate Sitting Volleyball experts – course directors, other referees and organisers."
Growing interest in Iran
The physical education teacher, who is a keen volleyball player herself, and was introduced to Sitting Volleyball in Iran when she was 22.
"When I was a 2nd level referee for the FIVB, I was invited to a national Sitting Volleyball tournament for be a line judge and scorer and that's where I became very interested in the sport. I like very much, the friendly atmosphere and different relationships in Sitting Volleyball – the referees, coaches, players and even the opponents…they are such a big family."
Last month , the National Olympic Committee of the Islamic Republic of Iran President Reza Salehi Amiri had reportedly expressed his support of the promotion of female participation in sport in the country.
Paris 2024
And in total, Jafari and Ahadi were part of the successful Level 3** course where all six participants – there were four male candidates: Philippe Dauchel (FRA),Pierrick Le Balch (FRA), Jasmin Ramic (CRO) and Tomas Buchar (CZE) – also passed the course. A third French referee (Stefan Vanderbeeken) certified with a Level 2 after reaching the age limit for a Level 3**.
"The is a great sign of the direction of World ParaVolley," World ParaVolley Referees Commission Chair Glynn Archibald said. "Gender equality across all aspects of World ParaVolley is a key goal as witnessed by the 50/50 gender split for referees at the Rio 2016 Paralympic Games and a continuation of this objective with our referees is very important. The successful participants in last week's course also bodes very well for the Paris 2024 Paralympics."
France is also building up its referee resources ahead of the Paris 2024 Paralympics where they now have one International Referees (male) and six Candidate International Referee (all males).
World ParaVolley has a total of 86 qualified referees (48 candidate referees and 38 international referees**, 22 women and 64 men) while Iran boasts 447 certified referees including 148 women and 299 men.
Referee Courses **
Level 1  – Entry level that provides referees with the opportunity to referee at national level.
Level 2 – Zonal/continental level
Level 3 – International certification which includes an age limit (any Level 3 course candidate must be under 45 years old).
---
Photo (top): Halleh Jafari (right) and Fariba Ahadi at the ParaVolley Europe New Nations Subzone Men's Tournament 2018 in Tourcoing, France
Photo (second): Halleh Jafari in action
Photo (third): Fariba Ahadi in action
---
Quick Links