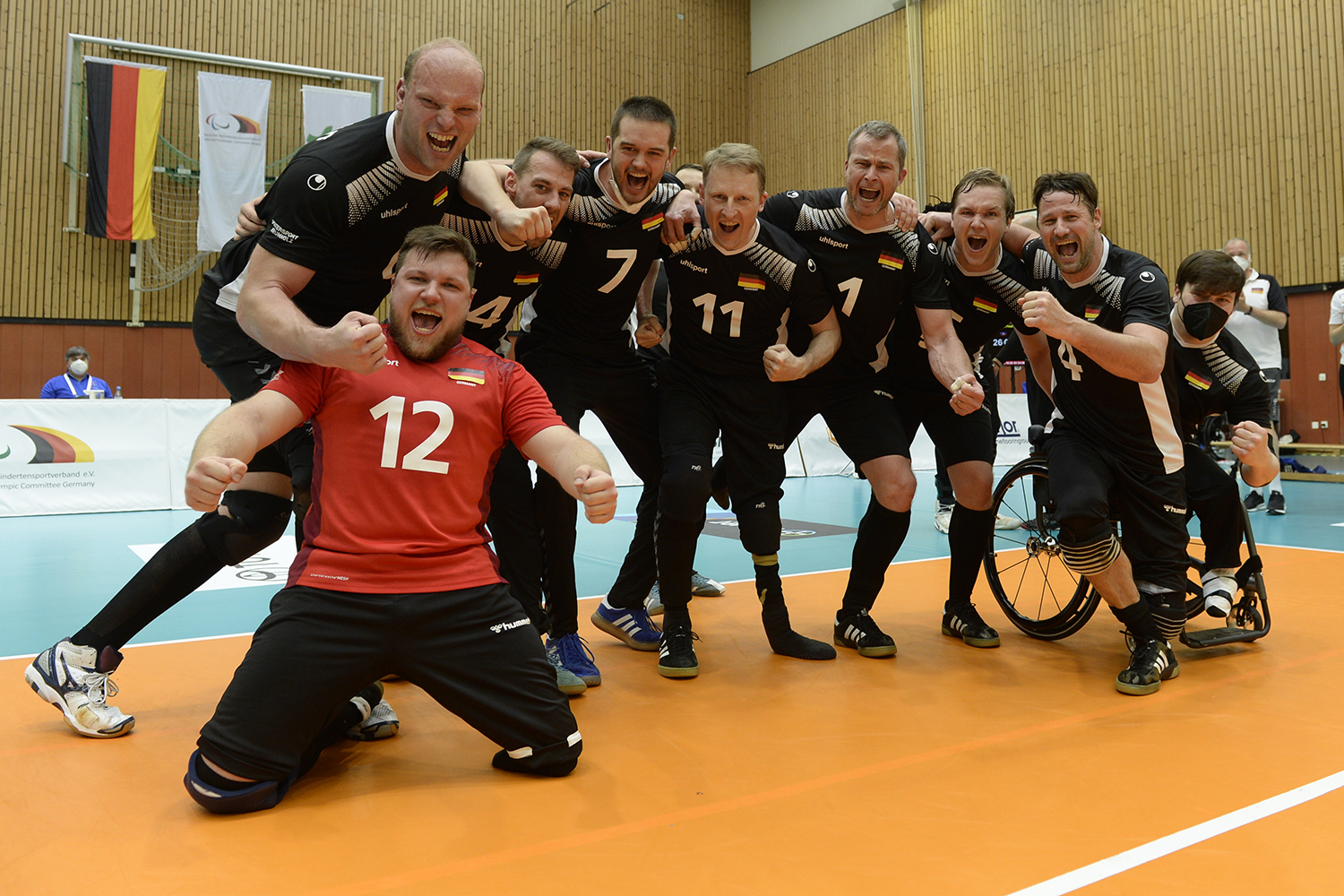 The stakes were high on Day 4 of the Tokyo 2020 Men's Qualification Tournament in Duisburg, Germany. And when the dust of the battles had settled, hosts Germany and Kazakhstan that came out as the victors on Friday. Saturday afternoon 16.00 CEST the first place and the ticket to Tokyo will be contested.
Canada vs. Croatia   (25-17, 12-25, 25-22, 20-25, 12-15)
With just one semifinal spot to play for, the heat was on right from the start in the match between Canada and Croatia. The North American team presented themselves best in the opening set, quickly gaining an 8-2 lead after several scores of captain Doug Learoyd and Bryce Foster. Canada played a fast paced game and got the better of Croatia on almost all aspects of the game. It was Dariusz Symonowicz who converted the set point with a hard driven ball down the line: 25-17.
In the second set the tables turned from 5-5 on. Croatia made a run of 13 points where Canada only managed to get two points in (7-18). Croatia upped their effort and guided by their captain Ivan Cosic they got back in the match. Nenad Ilibasic aced on set point to draw level: 12-25.
It went on to be a real see-saw match, the initiative and flow quickly changed again. Canada were relentless in their efforts and took an 4-0 lead, which they extended to 14-5. Croatia did get back into it a when faced with set points at 24-19. Although they did manage to score three, it was Symonowicz who once again pulled the trigger: 25-22.
With their backs against the wall Croatia produced their best fighting spirit. Edvin Zdionica had a big part in his team's rise. With important blocking points and clever attacks off the block Croatia won the fourth 20-25. The fifth seemed to go Canada's way with a 3-point-lead at 9-6. But once again Croatia proved to have nerves of steel. A Zdionica tip leveled things up at 11-11. And a few points later the 15-12 secured the win for them, setting themselves up for a semifinal meet with Kazakhstan later in the evening.
"It's a tough break, we fought hard till the end", Dariusz Symonowicz said afterwards. "Unfortunately, we came up a little short when it mattered. Croatia gave a great battle; they're a great team and I wish them all the best in the semifinals."
"We just rely on our height, our hitting and our block", captain Ivan Cosic of Croatia explained. "Experience made the difference today; we have played a lot of matches like this. Looking forward to the semifinal with Kazakhstan, I expect we can give our best."
Ukraine vs. Germany   (15-25, 18-25, 24-26)
Germany let little to the imagination as to what was their goal this afternoon. With real demanding blocking and attacking they made a 10-1 run. Ukraine had their work cut out for them, because whatever they tried, there usually was a German hand underneath the ball. With a big hit from Denys Bytchenko and a clever second ball from captain Sergii Shevchenko Ukraine did come back, but the damage was done. On setpoint Tatang Tonleu was paying attention in block and put it away: 25-15.
After Germany once again took the lead early on (3-0), Ukraine now managed to bounce back immediately to even be in front two points (6-4). But it wasn't long lived, the German team were sharp when points mattered most. Heiko Wiesenthal made it 21-16 with an overhand ball placed deep in Ukraine's court, following it up with a kill block. Tonleu was once again the one who gave Germany the set win with a sharp block.
Ukraine was on the verge of getting back in the match when they reached set point after a great comeback from 18-14 down. A block by Ruslan Horyakin made it 24-21 and with that Ukraine had at least three chances of gaining a set. First Dominik Albracht scored off the block, then in a remarkable rally Tanleu kept a ball alive which was then scored by one of his teammates. Germany leveled up with a kill block. With Thomas Renger at the service line the Germans took a first match point which was again decided by Tanleu's blocking skills. Germany are the first finalists of the Tokyo 2020 Men's Qualification Tournament.
Match winner Tatang Francis Tonleu looked back on a great performance of his team. "It was a very hard game today. We have been preparing for this game for one and a half years. We know Ukraine is very good, those players are very talented. Denys (Bytchenko) is one of the best players in the world. Our strategy made all the difference today. It was very simple; make sure Denys doesn't spike the balls. And it worked."
Kazakhstan vs. Croatia 3-0 (25-17, 27-25, 25-18)
As favourites for the second spot in the final Kazakhstan were met with fierce opposition from Croatia. De Croatians went all in, and it resulted in an exciting battle. Kazakhstan managed to stay in front for most of the match, but never were certain of an easy win.
In de first set the difference was made from 17-16 on, when Kazakhstan had a four-point run. After Croatia took their time-out, they won the first rally that followed, but it was the last point they'd make. Two service aces by Perdebay Namuratov handed Kazakhstan the victory.
The second set might have been Croatia's if it hadn't been for some fantastic defending from libero Kuanysh Tazhikov, who scored from his defence to level up at 25-25. A block by Yerlan Bitemirov put the Kazakhs on set point, which was converted by Namuratov immediately.
During the third set Kazakhstan showed their class and didn't allow Croatia to cherish any hope. They opened up a gap from 11-10 on and cruised to victory. On match point it was Akylbek Shikibayev who hit along the line and finished the match.
Coach Bauyrzhan Takhauov wasn't completely satisfied with his team's performance. "We expected that our competitor would give it their all, it's a semifinal. Our spikes and attacking percentages were a little lower than we expected. Tomorrow we will fight for what we came here for: a ticket to Tokyo."
Final
The final match of the Tokyo 2020 Men's Qualification Tournament will be contested between Germany and Kazakhstan, two team that have already met in the pool phase. Kazkhstan won 3-0, but it could have gone either way with the first set of 26-24. Germany will be ready for action when the first whistle sounds, but Kazakhstan are the same. They came for just one goal: scoring a ticket to Tokyo.
Schedule
On the final day three matches will be played, first up are United States and Canada who will battle for fifth place. The bronze medal will be for either Ukraine or Croatia and of course, the final will be played last. This one is the one they came for!
| | | | |
| --- | --- | --- | --- |
| Time (CEST) | Match | Team A | Team B |
| 10.00 | 5th place | United States | Canada |
| 13.00 | Bronze | Ukraine | Croatia |
| 16.00 | Gold | Germany | Kazakhstan |
Livestreaming
The matches of the final day of the Tokyo 2020 Men's Qualification Tournament will all be streamed on Sportdeutschland.tv.