In the lead up to the Rio2016 Paralympic Games, World ParaVolley will be sharing the stories of some of the athletes and teams that will be competing at the Games.  The following tells the story of Sitting Volleyball in Bosnia and Herzegovina.
---
From war to Paralympic Champions, Bosnia and Herzegovina share their pride and Sitting Volleyball accomplishments
The Sitting Volleyball Union of Bosnia and Herzegovina was established in 1996, following the end of the Bosnia war, with the primary objective of re-socialising many injured people through sport. It also intended to popularise the moral values that are acquired through sport in general, but especially sitting volleyball. Our vision from the outset was clear, to have a continuous impact on people with disabilities through the development of personal and social values.
Huge results have been achieved in a very short time. We have twenty-eight teams that compete in the premier, first and second divisions, we have over 600 athletes and a great programme to encourage young people to join the sport. This  gives us the confidence to say that our primary intention has been met as we continue to develop the sport further.
The clubs and teams have enthusiastic and experienced staff working hard on the training and coaching process. We also have good facilities which include the Higher Coach School Faculty of Sport and Physical Education in Sarajevo. This facility provides the demanding criteria required of a professional sitting volleyball team.
Our plan and target for social reintegration of disabled persons has led us, without false modesty, to outstanding results for both our senior and junior international teams and our clubs, as follows:
Senior team:
Gold medalist at the Paralympic Games (Athens, Greece, 2004, London, England, 2012)
Vice champion of the Paralympic Games (Sydney, Australia In 2000, and Beijing, China in 2008)
Triple world champion (Cairo, Egypt in 2002, Roermond, Netherlands of 2006, Elblag, Poland 2014)
World vice-champion (Edmond, United States of 2010)
Current nine-time European champion (Sarajevo, Bosnia and Herzegovina 1999, Sárospatak, Hungary 2001, Lappeenranta, Finland 2003, Leverkusen, Germany 2005, Niđerhaza, Hungary in 2007, Elblag, Poland 2009, Rotterdam, Netherlands, 2011, Elblag, Poland 2013 and Warendorf, Germany 2015)
Our senior team is the only team to have held the title of European champion, world champion and Paralympic champion at the same time.
Bosnian Men's team celebrate winning the 2014 World Championships in Elblag, Poland
Junior Team:
Vice Champion at the first World Junior Championships in Kamnik, Slovenia in 2005.
Double European vice champion (Niđerhaza, Hungary in 2006 and Leverkusen, Germany 2008)
It is obvious that we are on the right track. Young people deserve every opportunity.
Club Teams:
Our clubs are the undisputed kings of European club competition in sitting volleyball.
The Volleyball Club of Disabled "Speed" from Sarajevo is six-time club champion of Europe.
The volleyball club Disabled "Phantoms" from Sarajevo is current four-time club champion of Europe.
In short, we can say that a lot has been accomplished, but many tasks still lie ahead.
In Rio, our senior team will attempt to retain the title of Paralympic champion following our win in London 2012. We are confident that we have the knowledge, will and motivation to win another gold. We are confident that we have the strength, will and motivation to present Bosnia and Herzegovina once again in a dignified manner, as its eternal lovers and faithful "ambassadors".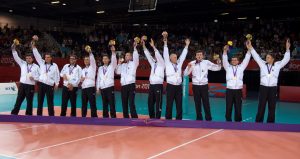 Bosnian Men's team win gold at London 2012 Paralympics