Tokyo, 13th November 2019
Match 1 – JAPAN v RUSSIA
Match 2 – USA v UKRAINE
Match 3 – RUSSIA v UKRAINE
---
JAPAN v RUSSIA – 0-3 (12-25, 22-25, 18-25)
The opening game of the 2019 World Super 6 tournament saw Japan face mighty Russia, current European Champions.
In a very cheerful atmosphere led by several classes of primary school children attending today's game, the first set was tough for the Japanese team faced with some strong hitting from Russia's Churakova (#14).
The Japanese defense however was very active in the backcourt and picked up many balls but only just managed to reach double digit score thanks to some serving by Saito (#5) bringing the score from 22-6 down to 23-12. Unfortunately this was not enough and the the first set ended at 25-12 in favour of Russia.
In the second set, Japan started a bit more strongly and managed to maintain a two-point difference up to 7-5 in favour of Russia. Captain Ivanova (#1) then went on to serve eight points and took Russia ahead by a rather significant gap to 15-7.
Russia relaxed a bit and let Japan come back to a 22-16 score. Takei (#15) took the opportunity to put pressure on the Russian receiving line by bringing the score to 24-22 still in favour of Russia but this was not enough and Russia took the second set 25-22.
In the third set, Japan did not give up and matched Russia point for point up to 8-all but it was short lived as Okorokova (#7) went on to serve and took the team to an eight point lead.
Again, Japan tried to creep slowly back in the score thanks to some serving by Sumimoto (#3) but the Russian block and attack was too strong for them giving a final result of 25-18 in the third set and victory 3-0 in favour of Russia.
---
USA v UKRAINE – 3-0 (25-2, 25-10, 25-11)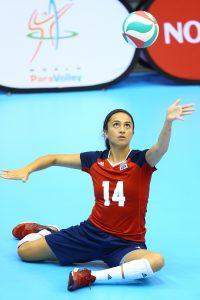 Paralympic champions USA wasted no time in getting into their first game of the tournament against Ukraine.  Tough serving from Kanahele (#14) saw USA surge ahead to a 16-0 lead in spite of Ukraine asking for a time out at 4-0 and benefiting from the technical time out at 8-0.
It seemed nothing was going Ukraine's way with the receiving line really struggling to dig the balls. They did however managed to get the ball back to allow one rotation but lost the opportunity again to score.  After having used both time outs and two substitutions without any tangible result, Ukraine lost the first set by an astonishing 25-2 score.
The second set started more levelled and it looked like Ukraine was shaking off the jet lag, only trailing 2 points behind at 5-3.  However Erickson (#6) being her usual efficient self not only put pressure on the Ukraine block with her strong hitting but also on their receiving line to see the score reach 9-4 in USA's favour.
Captain Podliesna (#8) tried to motivate the team and started hitting some good balls but it was not enough. Again strong serving from Shifflett (#3) and Nieves (#16) gave the second set 25-10 to USA.
The third set followed a similar pattern as the second with Ukraine still looking powerless and not managing to take advantage of USA very few unforced errors. The receiving did not improve and USA were soon 16-6 ahead. 
Coach Hamiter took the opportunity to make the most of his players roster and used his bench effectively, bringing in amongst other Flood (#15) aged 16 who got to serve for the game. USA won the third set 25-11 and the game 3-0 in 50 mins and with a total of 18 aces.
---
RUSSIA v UKRAINE – 3-0 (25-15 ; 25-19 ; 25-9 )
The last game of day one saw the two European teams meet for the first time since the last European championships, with Ukraine playing their second game in a row today.
The first set started quite even with teams measuring each other out but Russia was very quick in increasing the pressure at the serve to take a 10-4 lead. Ukraine tried to match up with Russia but once again their receiving line was struggling to pass the ball.  Russia took the opportunity to substitute players at 15-7 in their favour and eventually took the first set 25-15.
The second set was a bit more even with Ukraine finding their main hitter Podliesna (#8) and getting to 10-8 still in favour or Russia.  A series of serves from Okorokova (#7) took Russia ahead with a confortable 5 point lead to 18-13 but Ukraine had not given up yet and tried to come back in the score.  Coach Ovsyannikov started getting agitated on the bench as it seemed his players were not pulling their weight and his reaction pushed them to finish the second set 25-19.
The third set was a formality as it looked like Ukraine had already given up. Russia quickly surged ahead to a 13 point lead at 17-4 with Smirnova (#13) in great form at the serve.  Too many errors at the net on the Ukraine side and poor receiving sealed the deal, Russia winning the set 25-9.
---
Quick Links:
2019 World Super 6 – Women
Facebook
Twitter
Instagram