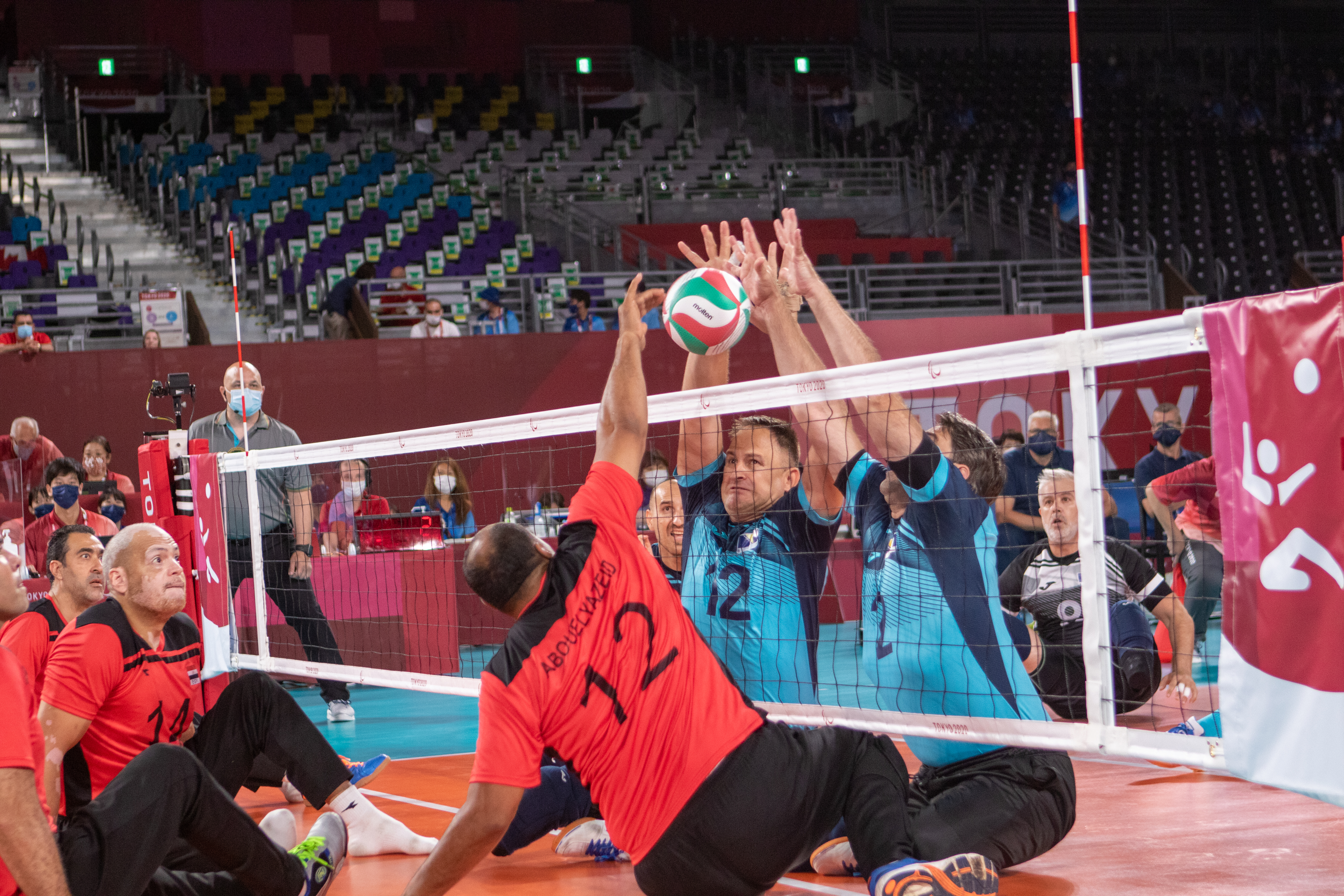 Brazil prevailed against a resilient Canadian side in a nail-biting five-set match, while Italy made an impressive debut with a straight-sets win against hosts Japan in the women's tournament of the Tokyo 2020 Paralympic Games at Makuhari Messe Hall on Friday.
Silver medallists Bosnia and Herzegovina outclassed their former Rio 2016 semifinal rivals Egypt in straight sets, while RPC made short work of their Japanese rivals in straight sets to dominate on the first day of competition.
Match No. 1 – Women – JPN v ITA – 0-3 (23-25, 11-25, 10-25)
In their first appearance at the Paralympic Games, Italy did not disappoint in their encounter with Japan. Both teams were raring to go and did just that from the start of the match, but Japan quickly ran out of steam after having matched Italy point for point in the first set losing to the Europeans 25-23. The remaining two sets saw Italy impose their game with some great plays from setter Giulia Bellandi. As soon as their service game became consistent, Italy powered their way to their first ever Paralympic Games victory.
"It was a strong match because the Japanese team they don't give up, they are always so energetic. Even if there is a big difference in points, they don't give up," Bellandi said.
"We did not start in the best way for the first set, because, I think, we were anxious, and the lights, the gym, and everything was so exciting. We were so nervous. But then we got better. It was a good first match of the Paralympics."
Match No. 1 – Men – JPN v RPC – 0-3 (6-25, 17-25, 15-25)
The Japanese men started their Paralympics competition facing RPC in the second match of the day. RPC wasted no time getting into the set and played a clean game from the start to finish. Then the second set saw the second batch of RPC players on the court, but reduced the momentum that favoured the Japanese side to bridge the gap. RPC still prevailed 25-17. In the third set, the starting unit of RPC returned on court, but Japan fought hard against their strong opponents. They even reduced the lead by one point, but RPC regrouped after a timeout from by their coach Aleksandr Ovsyannikov. They soon regained their momentum and closed set and match at 25-15.
"Because of COVID-19, it's been a while since we've played in an international game, and it took a while for our bodies to catch up with us. But by the second match we were getting used to it. The last time we played internationally was in summer 2019 in the Netherlands. We were very happy to play today," Japan outside hitter Masahiko Sato said.
Match No. 2 – Women – BRA v CAN – 3-2 (21-25, 26-24, 25-20, 27-29, 17-15)
The excitement and tension could be felt even before the game started between the two teams from the Americas. Canada were persistent from the first serve to take the lead, but Brazil fought hard for every point. They managed to reduce the Canadian lead but it was too little too late, as Canada pulled through with the opening set win. The Brazilians left the Canadians feeling shaky in spite of the first set win, and as a result, the latter let the second set slip by a very narrow margin at 26-24.  The tables turned at that point and BRA was on a high, and as the third set was soon theirs, Canada tried to stop them. Canada fought tooth and nail in the fourth set and after five set points, they finally took the fourth set 29-27. The fifth set was a real battle which could have gone either way as both sides each had a match point. Brazil's experience finally paid off and they won the match in the fifth at 17-15.
"It was a very difficult game. And it was the first time I played as a starter in the Paralympics, so it is an emotion that I don't even know how to describe. But it's great to know that it's a taste that we can chase more victories and improve each day more," Brazil's Pamela Pereira said.
"The team's going to take away from this so much and we are going to take away the fact that we were in it. That was the bronze medal team from Rio, and we were right there the entire game to play a three-hour five set match. It means that we're ready, we're ready for the podium, and we're gonna go in and come back to this, and know that we going to continue to serve tough and play our game," Canada captain Danielle Ellis said.
Match No. 2 – Men – EGY v BIH 0-3 (23-25, 22-25, 15-25)
The last match of the day between Egypt and Bosnia and Herzegovina was a clash between teams that could block the most. With a lot of power between blocks and strong hits. Bosnia and Herzegovina eventually took the first set 25-23 and continued the way they started in the second set by dominating in blocks and attacks. Egypt conceded a tight second set 25-22, and their unforced errors gave way for their rivals to dominate, limiting them to just 15 in the third set for a straight-set defeat.
"This win was a big boost for our confidence after not being able to compete because of COVID. This will propel ourselves and continue to prepare for the next match," Bosnia and Herzegovina player Jasmin Brkic said.