Things have started on the beach!
With the Northern Hemisphere summer drawing to a close, World ParaVolley President Barry Couzner reflects on a hot summer of Beach ParaVolley activity.
Following the decision by the World ParaVolley General Assembly last month to have Beach ParaVolley in the LA2028 Paralympic Games as a major goal and with IPC President Andrew Parson's personal backing behind the bid, I'm pleased to say Beach ParaVolley (Standing) is on the move.
In Kazakhstan recently, 12 teams took part in a Beach ParaVolley (Standing) event. They represented the countries of Kazakhstan, Poland and Slovakia with Latvia, Russia and Uzbekistan showing interest in the discipline, although they primarily attended to play Sitting Beach Volleyball. Helena Hankova from Slovakia, a long time Standing Volleyball supporter and famous coach was in attendance.
A very successful event was held in Campinas City, Sao Paulo State, Brazil in August – the "Decathlon Beach Volleyball Tournament" – alongside other events. Three teams participated enthusiastically within a short timeframe. The ParaVolley Pan America Beach Volleyball Commissioner, Andre Calado, said "It was a great event, with an exciting audience and "impossible plays" sometimes."
An after-event analysis was done on the rules and playing conditions with suggestions for future development and events. Importantly, after finding out about the event, two nearby countries made inquiries about future participation. There are plans to hold other events later this year.
---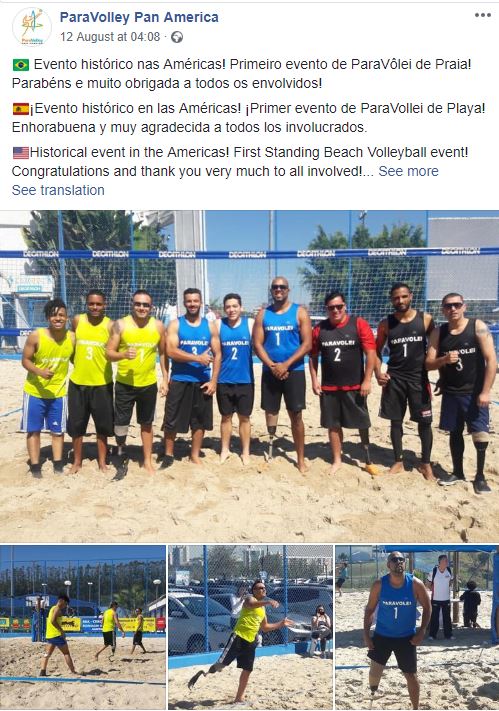 ---
Jerome Dumas (Hungary) has opened up a Facebook public group on Beach ParaVolley (called We Are Standing Beach Volleyball) so if you would like to join, it is an open group, so please do so!
Meanwhile, the World ParaVolley Beach Commission is planning for several World Series Beach ParaVolley (Standing) events next year in which teams from any Zone can participate. For further information please contact the Assistant Sport Director, Stephen Giugni (stephen.giugni (at) gmail.com)
From humble beginnings, big things can grow.
Let's keep our eyes on the ultimate prize – LA 2028 – and meanwhile work hard to make it happen!
Barry Couzner OAM
World ParaVolley President
Quick Links