International volleyball instructor Athanasios Papageorgiou released his brand new book called Coaching Volleyball Beginners, which he co-authored with Dr. Jimmy Czimek of the German Volleyball Association (DVV).
Coaching Volleyball Beginners is a step-by-step guide for coaches that helps them teach youth beginner players how to play volleyball. With the various games, the coach can keep practice interesting for the players as they develop basic playing skills.
The book includes ideas for easy, introductory, mini volleyball games for young players ages 6-10. These games are both entertaining and instructive, teaching the young players the volleyball basics. The book also explains how to use small-group games such as 6 vs 6, to teach more advanced volleyball methods and skills to older players ages 13 and up.
The various drills and games are explained in detail with accompanying photos and illustrations, so coaches of any level, from beginning to more advanced players, can easily implement them into practice sessions.
A short introduction is also included to round out the information, making this a book all youth volleyball coaches need on their shelves.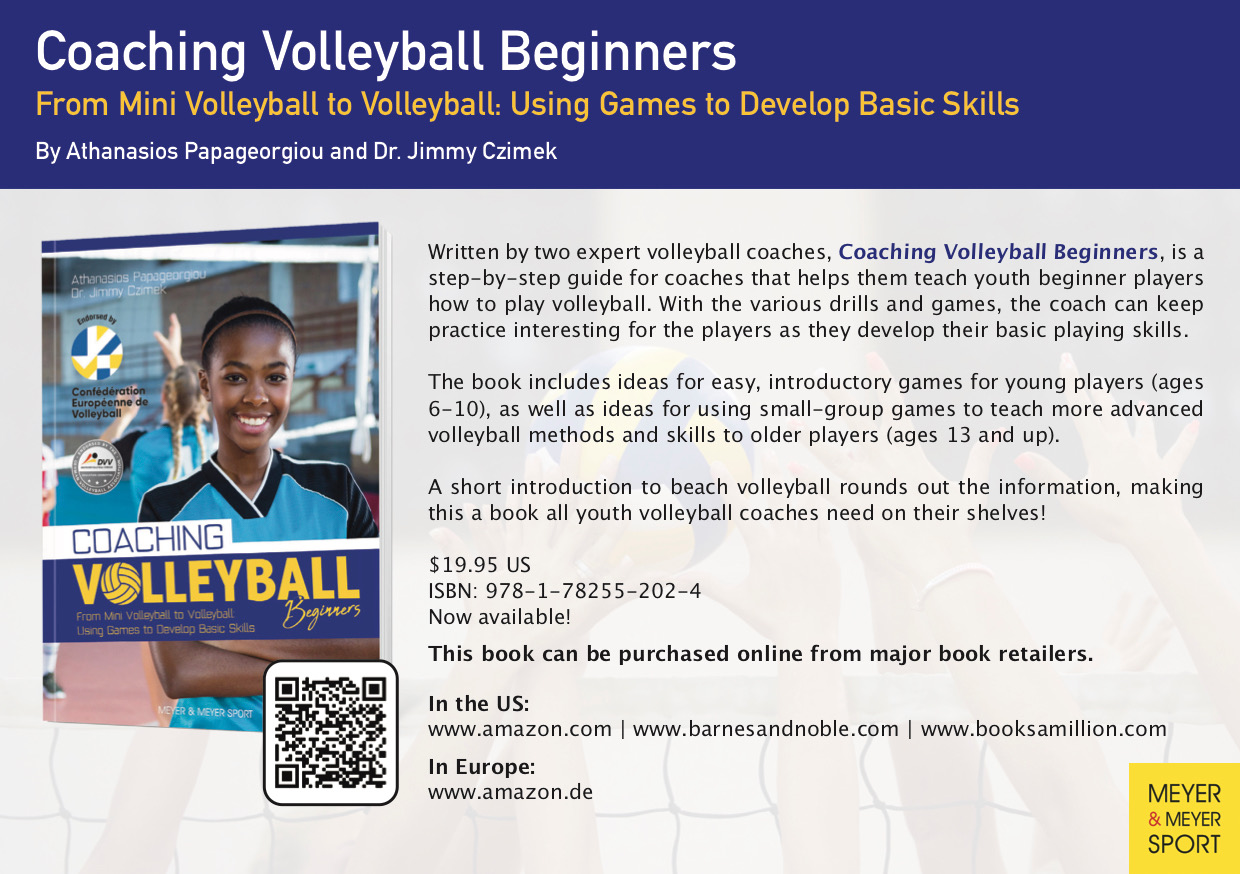 About the authors
Dr. Jimmy Czimek is a certified sports teacher and trainer. He earned his doctorate in psychology and training theory at the German Sport University Cologne. He is the former co-trainer of the German women's volleyball national team and head coach in the 1st division Volleyball Bundesliga. In 2010, he began working at the German Sports University Cologne as a senior student counselor. He also lectures in the LFG Volleyball at the Institute for Mediation Competence in Sports. Since 2012 he has overseen the A-trainer education at the DVV (German Volleyball Association), where he has been the main instructor for volleyball since 2014. Since 2013 he has been the coordinator and main instructor for the volleyball sports game at the Cologne Trainer Academy. He has also trained the women's national league team DSHS SnowTrex Köln for many years.
Athanasios Papageorgiou is a certified sports teacher. From 1970 to 2009, he lectured at the former Institute for Sports Games at the German Sports University in Cologne. He has had numerous successes as a Bundesliga men's coach and as a coach of the German national volleyball team for the disabled. For almost three decades, he was a trainer at the DVV (German Volleyball Association) as well as a coordinator and main lecturer for volleyball at the Cologne Trainer Academy. Since 1993 he has been a trainer for the International Volleyball Federation and the International Volleyball Federation for the Disabled. He has published numerous textbooks, scientific articles, and educational films on beach and indoor volleyball.