Tokyo, 15th November 2019
Match 7 – JAPAN v RUSSIA
Match 8 – USA v UKRAINE
Match 9 – RUSSIA v UKRAINE
Nomura World Super 6 for Women – Bulletin 4
---
JAPAN v RUSSIA – 0-3 (23-25; 12-25; 12-25)
Russia's 3-0 win against Japan lacking initial motivation
Russia were very slow to start the game making many mistakes and Japan took advantage of that, matching them point for point to 4-3 in their favour. Ogata (#6) applied additional serve pressure and gain several points for her team reaching the first technical time out with Japan leading 8-4. A series of blocking mistakes allowed Russia to come back to the score at 10-8 still for Japan. Clever play at the net from Kikuchi (#9) and Ogata (#6) allowed Japan to get to the second technical time out 15-11 still ahead.
Double substitution on the Russian side with Dmitrieva (#12) and Arbatskaya (#8) to stop Japan's momentum helped Russia come back to the score at 15-17.  Smirnova (#13) served strongly and demolished Japan's receiving line with several aces, taking Russia to a decent 20-17 lead in their favour. Russia scrambled a bit for a few points allowing Japan to come back to a two points difference but eventually took the set 25-23.
In the second set, a blocking festival from Japan saw them take the lead again at 5-4 but Russia were not far behind and got to the first technical time out leading 8-6. Russia unconvincingly got some points in to get to a 5 points lead at 16-8 and went on to apply additional pressure on the serve thanks to Churakova (#14) and reached 19-10. Russia seemed to have regained their senses and were back to a level of play expected from them. Serves, blocks and hits were successful and Russia reached 23-12. Japan could only try to scramble and get the ball up but Russia got the finals points to take the set 25-12.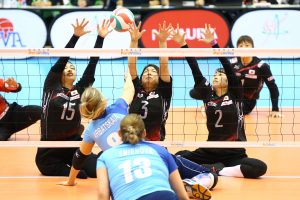 Mednikova (#3) found her serving arm in the third set and took Russia to a 6-2 lead at the beginning of the 3rd set. At 8-4 at the first technical time out, the Russian machine was back to its usual efficiency and Japan were powerless in trying to stop it.  Russia went not to reach the second technical time out with a 10 point lead at 16-6. Russia kept on piling on the points and Japan looked slightly perturbed, not knowing what to do to stop them. At 21-9 for Russia, coach Ovsyannikov used two substitutions to give his players additional game time.  Japan had a last spurt of energy at 23-12 but Kunstman finished the set with her strong serve at 25-12, giving Russia a 3-0 victory over the hosts.
---
USA v UKRAINE – 3-0 (25-17; 25-18; 25-10)
USA continue their winning mission with a 3-0 victory against Ukraine
USA started the game showing who was the boss at the net with a strong blocking presence taking an early lead 6-4 up. Unforced errors allowed Ukraine to come back 6 all but Nieves (#16) put a stop to it with a powerful hit through the wing.Burkland (#7) started serving down the line from position 5 and it did the trick forcing Ukraine to take a time out at 11-6 for USA.  Clever play at the net by Podliesna (#8) did not help and USA were soon 16-9 up at the second technical time out. Podliesna (#8) again tried to energise her teammates and Koziar (#9) gave Ukraine a few needed points with her serve taking Ukraine 3 points short from USA at 17-14. Flaws in Ukraine receiving line up took USA two points short of the set at 23-17. Vladychinsa (#2) came in to serve with no result and USA won the first set 25-17.
The second set saw a change in the USA line up with setter Kanahele (#14) serving and distributing the game well to a 3-1 lead. Ukraine regrouped and got to 4 all with Lodzko (#6) serving strongly. The Ukrainian front court did its jobby avoiding the USA block to lead 7-5. Rallies sped up and Ukraine reached the first technical time out at 8-6 in their favour. They seemed to have found renewed energy and were soon leading 14-9.  USA Edwards (#17) then went to serve to get her team back to their normal playing level at 16-14. Great front court communication between Kanahele (#14) and Williams (#11) combined with tough serves from Burkland (#7) helped USA reach a  21-17 lead.  Ukraine stopped communicating and dropped important points giving USA the 2nd set at 25-18.
Shifflett (#3) came in serving for USA followed by Holloway (#5) to take a 6-1 lead. Too many mistakes from Ukraine saw USA reach the first technical time out at 8-3 in their favour. Podliesna (#8) found her hitting arm and followed suit with her serve to take Ukraine to a two points difference at 8-6 but this was short lived. USA regained the serve and got to 16-7 in the second technical time out. In spite of some fantastic rallies between the two teams, USA were clearly one level up and showed their experience with a 11 point lead at 21-9. Miscommunication on the Ukraine side saw USA take the final set 25-10 and the game 3-0.
---
RUSSIA v UKRAINE – 3-0 (25-14; 25-12; 25-8)
Russia end day 3 with a victory over Ukraine
Russia did not start well in the last game of the day with a missed serve and hit out. Ukraine rose to the challenge and started leading 8-6 at the first technical time out. Russia played half heartedly until coach Ovsyannikov raised his voice and had a go at his players. Mednikova (#3) hit and block stopped Ukraine's progression and Russia started leading for the first time in the game scoring enough points to get to the second time out at 16-10. Two substitutions on the Russian side to slow down Ukraine's progress helped and soon Russia was away with Smirnova (#13) at the serve to 22-14.  Ivanova (#1) then finished the set with her strong serve 25-14.
Mednikova (#3) wasted no time in starting the 2nd serve with her powerful serves to take Russia to a 6-1 lead. Ukraine showed no real reactions and was soon 10 points down as a result. An exciting rally at 15-7 for Russia saw both sides show some energy but then Russia got the ball back at the second time out. Russia was still leading 20-10 as Ukraine failed to raise their games and stopped communicating between themselves. The set ended up 25-12 in favour of Russia.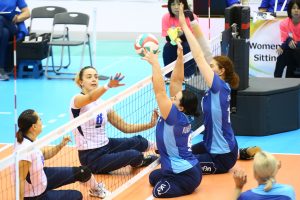 Russia started the third set meaning business and were soon leading 8-1 with both Arbatskaya (#8) and Smirnova (#13) hammering down the balls.  Arbatskaya applied additional pressure at the serve and Russia were soon extending their lead to 12 points at 14-2. Ukraine had several opportunities to score points by getting the serve back but did not capitalise on this. They were soon 14 points down and Russia was getting closer to taking the third set without any real fight from the opposition. Dmitrieva (#12) scored several points taking Russia to 23-7.  It was only a matter of Russia hitting and serving hard to then win the set 25-8 and the game 3-0.
---
Quick Links:
2019 World Super 6 – Women
Facebook
Twitter
Instagram